From a Catholic Committee of Appalachia press release: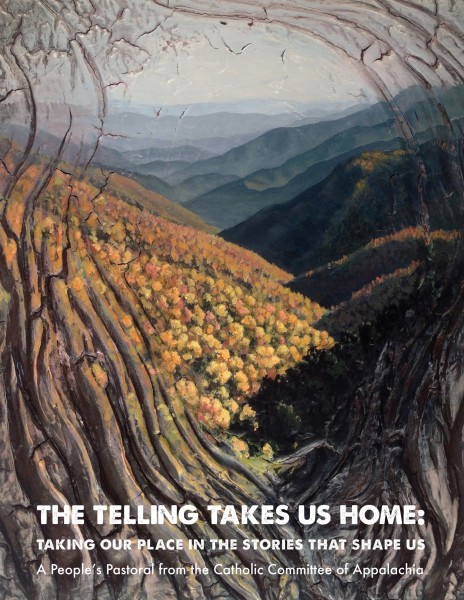 An Appalachian Catholic social justice organization has issued a regional grassroots pastoral letter on the call to be a "church of the poor" and the transformative power of people's stories in the work for justice. The Catholic Committee of Appalachia (CCA), based in Spencer, West Virginia, releases this pastoral on the 40th anniversary of its groundbreaking 1975 pastoral letter, "This Land is Home to Me," and on the 20th anniversary of its follow-up letter, "At Home in the Web of Life," both of which were signed by the Roman Catholic bishops of the region.
"The Telling Takes Us Home; Taking Our Place in the Stories that Shape Us" is the result of four years of planning and listening sessions, interviews, and tours conducted throughout the region and across religious traditions. For this third letter, called a "People's Pastoral," the planning team did not seek the signatures of the region's bishops, but rather sought to lift up the authority of the people, their stories, and Earth itself as an expression of the Roman Catholic Church's teaching of the "preferential option for the poor."
The People's Pastoral is available for download here. Starting January 1, hard copies will be available to order online here, by email at cca@ccappal.org or by calling 304-927-5798.
A full website with discussion guides, resources, photographs, art, action plans, and more is forthcoming at www.peoplespastoral.org.
OVEC is thrilled to have played a small role in this latest People's Pastoral, thanks to the efforts of members who were interviewed for the letter and volunteer Carol Warren, as well as OVEC's Executive Director, Janet Keating who wrote the Interlude and OVEC staff member, Vivian Stockman, who supplied some of the photographs used.