Join us on Saturday, April 29 for the Peoples Climate March Sister Rally and March in Huntington, WV. OVEC, the Marshall University Native American Student Organization (NASO), Organizing for Action (OFA), and the WV Citizens Climate Lobby (CCL) are organizing this event. Does your group want to join in? If so, contact Robin Blakeman at robin@ohvec.org.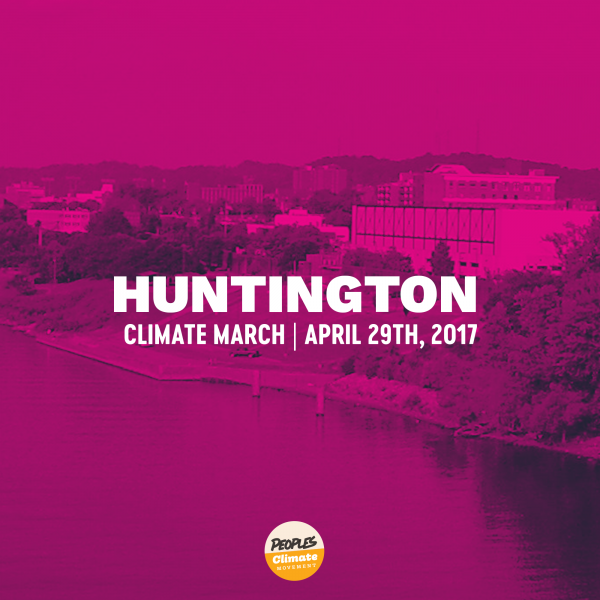 Help spread the word with FB and Twitter posts like these (more below):
Now more than ever

resistance is 🔑  

Join the Peoples Climate March on 4/

29 in DC or at a Sister March near you

https://goo.gl/bCECzc
When:    Saturday April 29        
Music from Shayar begins 10:45 a.m.  Rally and march begin 11: 00 a.m.  
Where:           Heritage Station, 210 11th Street, Huntington, WV
Speakers include: 
Bob McCollister, certified by the Climate Change Project in climate change presentations
NASO's Genenahgehneh Lee and others will speak, drum, and sing
A representative of Keep Wayne Wild, who will speak about the group's frontline struggle to protect the Wayne National Forest (near Marietta, OH) from unconventional oil and gas well pad installations, which would allow for gas fracking under the Ohio River.
OVEC, OFA, CCL, and other participating group leaders will speak briefly on local issues associated with climate change.
Join the event, check for updates and invite friends on the march's Facebook page. for updates on speakers and participating groups on PCM Huntington's Facebook page.  
PCM Huntington will include family friendly activities, speakers, music, information on local, regional, national, and global climate issues. Come out to Heritage Station and join in the march around the downtown area. Come celebrate your love for Huntington, the Ohio River, and the Earth!
Note:     Join a poster making party for the Peoples Climate March Huntington Sister Rally and March (PCM Huntington), from 5-7 p.m. Tuesday, April 18, at the OVEC office, at 725 West 14th Street in Huntington's Old Central City.
In solidarity with people gathering in Washington D.C. for the main Peoples Climate March, local, allied organizations are holding this sister rally and march in downtown Huntington, WV.
Solidarity marches are taking place around the nation, and internationally. There's also a sister march in Charleston, WV. PCM Charleston's Facebook page is here.
All West Virginians and Tri-State area residents are urged to find the march nearest to their homes and join in. Carpool with friends and family.
The WV marches have the potential to send a powerful message to our elected representatives.
 We are all threatened by climate change, and the only way to avert the worst consequences is to halt new fossil fuel projects, and transition rapidly to a clean, renewable energy economy—which will also generate more jobs than the deadly fossil-fuel-based business as usual.
We in Appalachia know all too well what it is to have safe drinking water threatened—or destroyed—by fossil fuel projects. We know how it feels to watch our elected officials and agencies scramble to defend the energy corporations—not us. We know how it feels to be regarded as a low-class, low-population culture whose health is a low priority. We, therefore, stand in solidarity with people worldwide who are demanding an end to climate denial and immediate, widespread climate change action, especially for those who are already experiencing dramatic, even catastrophic effects of climate change in their communities.
Help spread the word, download and post this flier:  Peoples Climate March Huntington:
https://ohvec.org/blog/wp-content/uploads/2017/02/PCMhton.pdf
Note:     OVEC is celebrating its 30th anniversary the weekend of April 28-30. Details here. 
More social media ideas:
You voted. You marched for women's rights. You marched for #NoBanNoWall. And now it's time to march again! RSVP to the Peoples Climate March

on 4/

29 in DC or at a Sister March near you

https://goo.gl/bCECzc

 

He doesn't speak for us. #Resist #climatemarch peoplesclimate.org

To change everything we need everyone. #WhyIMarch peoplesclimate.org

Together, we will #resist. #WhyIMarch peoplesclimate.org

Everyone. #Resist. Everywhere. #peoplesclimate: April 29 in DC & Nationwide. peoplesclimate.org