To release their new report, "West Virginia American Water Company and the Case for Public Ownership and Operation," our good friends at the Civil Society Institute held a tele-press conference on January 7. Making statements and fielding press questions were principal report author and CSI's senior energy analyst Grant Smith, report editor and Advocates for a Safe Water System volunteer Cathy Kunkel, and former DEP Environmental Advocate Pam Nixon, who is active with the Charleston Chapter of the NAACP member and People Concerned About Chemical Safety. Pam is also on OVEC's board of directors.
Among those on or reporting on the tele-press conference were reporters from the Charleston Gazette-Mail, WV Public Radio, the State Journal, the Appalachian Chronicle, WV MetroNews, Bloomberg News, E&E News/GreenWire, Water Technology, Water & Wastewater International, Circle of Blue and the Progressive News Network.
Grant stated: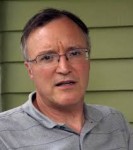 It would be wonderful to be releasing a report today on the second anniversary of the West Virginia water crisis saying that things are much better when it comes to safe, clean drinking water in the state. But that would not be accurate.
After decades of rate increases and what can only be described as 'malpractice,' the best course of action for West Virginians is to assume public ownership and operation (municipalization) of the Charleston Regional Water System. Public control has a better chance of ensuring public accountability, establishing standards and goals for rebuilding the infrastructure that can be measured. The best return for West Virginians on rate increases is to ensure that these funds stay local and actually improve the water delivery and water quality. The bottom line is that West Virginia's water systems are in dire need of investment to ensure reliability and quality.
Cathy told the reporters: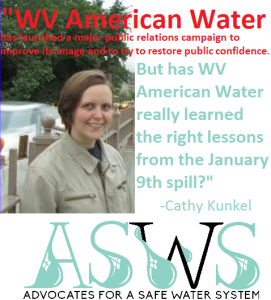 In the last two years, we have learned that we have a serious infrastructure problem here. At the current rate of investment, it will take nearly 400 years for WV American Water to replace all of the water mains in our system. Main breaks are an increasingly common occurrence.
This past summer, tens of thousands of people were without water for several days after a major main break. Schools have had to close early and businesses have had their inventories wiped out by water main breaks. But WV American Water is not planning to invest more in main replacement. The water company is asking for a 28 percent rate increase, but it has said that, even if it gets that full rate increase, it is not going to invest any more money in replacing water mains … WV American Water is planning to double the dividend payments that get sent to its out-of-state parent company, American Water.
And here's Pam's entire statement:
WV American Water Company supplies the drinking water to one-third of the state's population, approximately 550,000 customers. January 9, of this year will mark the second anniversary of the Elk River chemical spill here in Charleston. That was the day the WV DEP discovered that a poorly maintained tank farm allowed 10,000 gallons of MCHM and PPH to enter the Elk River, contaminating the drinking water supply of more than 300,000 residents in nine counties.
WV American Water lacked an effective contingency plan to protect, or, at least, minimize the negative impact on our public water system, especially since the only water intake was, and still is, located only 1.5 miles from the former Freedom Industry site. The day the spill was found, we were told by the goveror and health officials not to drink the water, or cook, bathe, or wash dishes and clothing in the water. The WV legislature, hotels, restaurants and other service-based businesses closed down.
Stores that sold bottled water quickly ran out. Water stations were set up in locations in the different counties, and we had to wait in long lines to receive a resource that we were used to getting from our faucets. Some of the stations gave out bottled water, while others brought in tankers filled with potable water to dispense to people who had containers.  
Low-income families and elderly people without vehicles were the hardest hit. If they walked to the water stations or caught a bus, they would have to carry the heavy cases or gallons of water back home. Others had to arrange for someone to take them to the water stations or rely on a neighbor or family member to deliver it to them. Remember, we had to have enough potable water for a family to drink, to cook with and to perform personal hygiene. 
I don't trust drinking or cooking with WV American water still today and the feeling is the same for most in my family. We continue to buy bottled water two years later.  It took six months for the water company to replace their carbon filters after the leak, and on the day the last filter was replaced — June 12, 2014 — there was another spill into the Elk River from the former Freedom Industry site when the sump pump at the drainage trench malfunctioned. Clean-up of the site is now underway but it won't be complete until the fall of this year.  Accidents happen at work sites, so I will continue to buy bottled water.
Apart from the former Freedom Industry spill, there have been numerous water disruptions resulting from the breaks in our aging water system infrastructure.  From June 23 to July 1, 2015, I was without water due to two major breaks in a 36-inch water main that was several decades old.  Those two breaks in that water line disrupted service to more than 20,000 people in Kanawha and Putnam counties. 
Water lines owned by WV American Water Company continue to break, in Kanawha County and the surrounding counties. Instead of using their profits to update and maintain the antiquated water lines, the money goes to the mother company and their shareholders, while West Virginia residents and businesses are treated badly. As recently as December 28 and 29, WV American Water issued boiled water advisories in Kanawha and Fayette counties and said they "apologize for any inconvenience."  We don't want their apologies!  We need infrastructure improvements — not patchwork!
We need to municipalize our water system! To support the movement to take back our water, e-mail info@ourwaterwv.org.