Do you remember the recent struggles to maintain Ohio River pollution control standards, set by ORSANCO? If not, here's a reminder. 
We remain vigilantly concerned about pollution control standards issues and monitoring in the Ohio River Watershed. We have also recently joined a new coalition group—the Choose Clean Water Coalition—in order to support our friends, allies and members in the Eastern Panhandle, and to advocate for protective water legislation on the Federal level. 
In 2020, one of the first things on our "to do" list this year was getting microplastics and ASH information sheets to leaders of the ORSANCO Watershed Organizations Advisory Committee (WOAC) leaders, for presentation at the first ORSANCO Commission meeting of the year. These information sheets will hopefully raise these two issues up on the radar for one of our most important regional regulatory and water monitoring groups.
We also want to share these resources with you, and encourage you to take them to your local elected leaders, especially if you live in or near the Ohio River Valley.
If you want assistance or training in how to set up an appointment with local officials, and what to say in a meeting, please contact me at robin@ohvec.org. I'll be glad to walk you through this process. We really need more people who are willing to attend such meetings.
And, if anyone would be interested in attending one of these upcoming discussions on Ohio River "development" please let us know (via the above email address or by calling 304-522-0246), and we will be glad to help you formulate talking points and questions.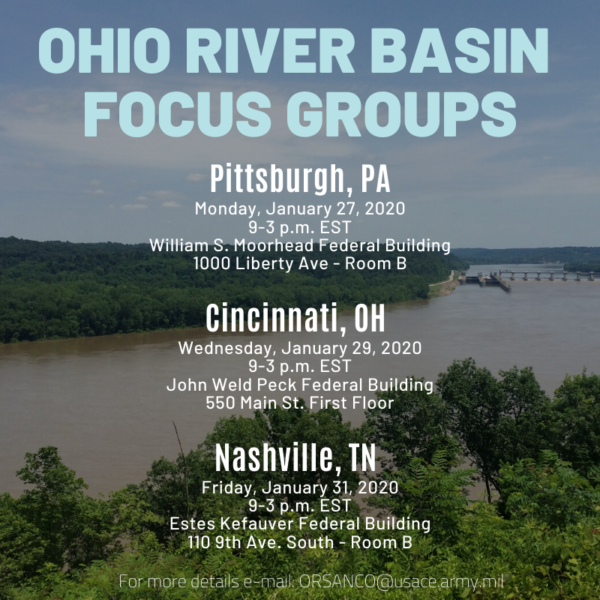 From the USACE: The Ohio River Basin Study is the biggest basin-wide study being conducted across the basin in many years. The study, being completed by the U.S. Army Corps of Engineers in partnership with ORSANCO (Ohio River Valley Water Sanitation Commission), will provide clear strategies and an action plan to advance six primary goals for water resources in the entire Ohio River Basin. These focus groups will look at refining existing strategies for the basin with a focus on the Knowledge and Informed Decisions goal.