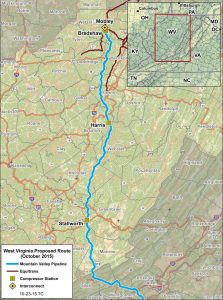 Updates: Although it is preferable to write up your own comments, thanks to Applacahian Vocies, here's an easy e-form for submitting comments. 
West Virginia Rivers Coalition has prepared a fact sheet which summarizes how the DEIS lacks critical information. Without this information FERC is unable to conclude that the project will have no significant impact. Feel free to use the fact sheet as you comment to FERC. 
On September 16, the Federal Energy Regulatory Commission (FERC) issued the Draft Environmental Impact Statement (DEIS) on the proposed Mountain Valley Pipeline (MVP) project. 
Download the MVP DEIS here or here:
Citizen groups along the path (and beyond) of the proposed pipeline are urging everyone to review the DEIS and make comments, either online, by mail or in person. 
All comments on the MVP DEIS must be received on or before December 22, 2016. Thanks to Preserve the New River Valley (PNRV) for compiling the meeting and commenting information.
You can file comments by:
• using the eComment feature on the FERC website (for brief comments and no account registration required)
• using the eFiling feature (allow you to attach documents and you must create an account) – make sure to use Comment on a Filing as the filing type
• sending a paper copy to the commission (make sure you reference the docket number CP16-10-0000 in your letter) to:
Kimberly D. Bose, Secretary 
Federal Energy Regulatory Commission
Room 1A 
888 First Street NE 
Washington, DC 20426
• attending a public comment session to provide oral comments. All meetings (loactions and dates below) begin at 5 p.m. and end at 10 p.m. FERC will allow speakers to sign up until 8 p.m.
Important Note: According to the FERC notice, "Individual verbal comments will be taken on a one-on-one basis with a stenographer (with FERC staff or representative present), called up in the order of the numbers received." That is, the public will not be allowed to hear the comments.PNRV notes, "This is another way for the FERC to try and limit our participation and is, in our opinion, absolutely appalling." We concur.
The dates and locations for these sessions are:
• Tuesday, November 1st, Chatham High School, 100 Cavalier Circle, Chatham, VA
• Tuesday, November 1st, Lewis County High School, 205 Minuteman Drive, Weston, WV
• Wednesday, November 2nd, Franklin County High School, 700 Taynard Road, Rocky Mount, VA
• Wednesday, November 2nd, Nicholas County High School, 30 Grizzly Road, Summersville, WV
• Thursday, November 3rd, Sheraton Hotel, 2801 Hershberger Road, Roanoke, VA
• Thursday, November 3rd, Peterstown Elementary School, 108 College Drive, Peterstown, WV
• Wednesday, November 9th, California Area High School, 11 Trojan Way, Coal Center, PA
Info to Mull OVER as Your Draft Your Comments
Community and conservation groups condemn FERC's review of proposed Mountain Valley Pipeline 
Environmental groups fault FERC statement
FERC's "Less-Than-Significant" = "Very Significant" to the Rest of Us
Proposed Pipeline Advances, Environmental Groups Push Back 
Pipeline dangers are very real, devastating
FERC Releases Draft Environmental Impact Statement for Mountain Valley Pipeline Project