Urgent: Are you noting problems with pipelines in your area? If so, you may want to write a comment to the Federal Energy Regulatory Agency (FERC), the Federal entity which issues most of the permits, in a mostly rubber-stamp process. They are currently reviewing their permit issuing processes. Comments can be submitted electronically until close of business on July 25. 
Thanks to Delaware River Keeper: Step by Step Instructions to Comment Online regarding the FERC Pipeline Review Process, PL18-1
Note: Your individual comments carry a lot more weight than form-letter comments, but if you don't have time to make you own comments, here's an easy e-action way to comment. 
****************************************************************************************************************
As previously posted on our blogs, two Columbia/TransCanada pipelines, the Leach Xpress and the Mountaineer Xpress (MXP),  are seemingly connected at both their origin points and terminal/transition point for the fracked gas they carry. Both originate in N-E West Virginia, with the Leach Xpress traveling soon thereafter under the Ohio River into Ohio before continuing its journey southward to Lawrence County, OH. From the Burlington/South Point area, it traverses under the Ohio River again, emerging on WV soil near Camden Park. Traveling through Westmoreland area of Huntington to the Ceredo compressor station, this pipeline then plugs into the Ceredo Compressor Station.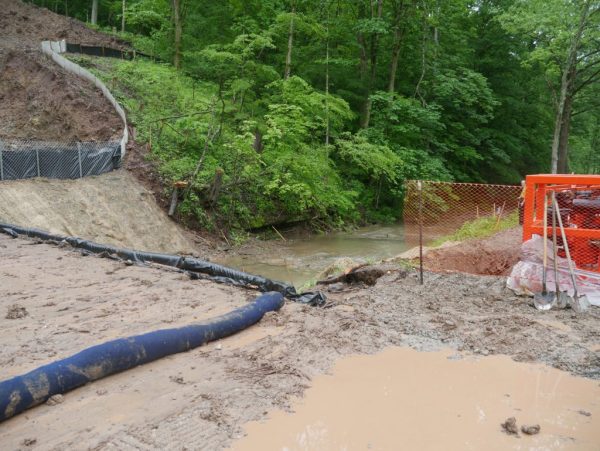 The Mountaineer Xpress (MXP), which recently moved to construction phases,  travels from N-E WV through multiple counties to Cabell County; at Milton, the 36-inch pipeline is scheduled to empty its contents via a small compressor station into the old SM-80 lines, which will transport the gas to the Ceredo Compressor station.
From the compressor station, the gas from these two lines will be transported into the Gulf Xpress line, which will transport the gas southward towards Louisiana's Gulf Coast, potentially for export.
As even a first grader with a crayon could see, if you trace these pipelines on a map, it looks like one big loop through WV and Ohio, with a tail leading to Louisiana. While some gas may be siphoned off at some points for local consumption, this massive system will send a lot of the natural gas mined in our region to export markets overseas. 
One huge problem with this system has already arisen; on June 7, an explosion on the Leach Xpress decimated 10 acres of forest near Moundsville, WV.  No one was hurt, only by the fortuitous fact that the failed portion of the pipeline was located far away from structures occupied by humans. Since the time of the explosion, reports have been issued which show that hillside slippages were at least partially responsible for this major failure in the system.
This is a concern now in the context of the Mountaineer Xpress construction and other pipelines being built on steep slopes, due to lack of appropriate "Best Management Practices" when it comes to erosion control on these hillsides. The stream testing volunteers in our five county program have thus far made at least six reports to regulators, regarding failed or absent erosion controls. We know that others have been making similar reports on other segments of the MXP, and on the MVP, ACP, and Rover.
A swarm of citizen monitors are literally stepping up to do the monitoring that our state regulators find impossible, due to lack of adequate staffing. We know that these reports have resulted in at least one voluntary work stoppage along the route of the MXP. These efforts are making a difference! We are trying to remain vigilant, but we need your help. To get involved with OVEC's efforts, e-mail robin@ohvec.org.
Please watch this visual stream monitoring recorded webinar, and follow the instructions therein to become a volunteer visual monitor of any pipeline construction near streams near you. Thanks to our friends at WV Rivers and Trout Unlimited for producing the video and managing the visual stream monitoring reports.