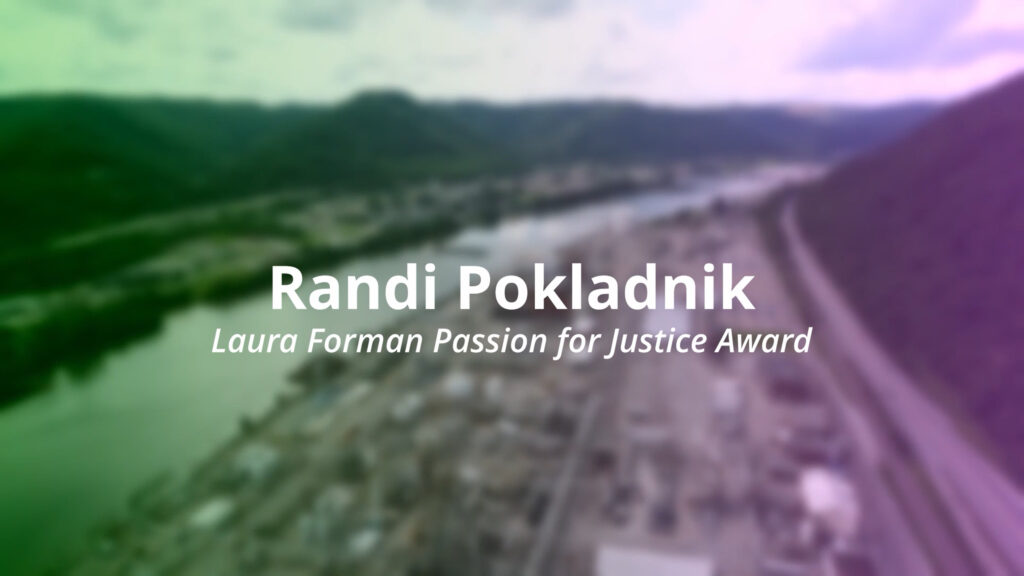 Click play to listen to a statement from Vivian Stockman, OVEC's executive director, about Dr. Randi Pokladnik's unwavering dedication and commitment to justice.
Our final award recipient for this year is receiving a very special recognition: the Laura Forman Passion for Justice Award. This award, OVEC's highest honor, is named after beloved OVEC organizer Laura Forman —  a woman who lived her life and carried out her work with an intense passion for justice.
In 2001, Laura died suddenly at the age of 39. OVEC members, staff and allies were devastated by the loss of such an inspiring organizer and knew we had to find a way to honor Laura's extraordinary courage and persistence.
In the years since we established this award, we have been so lucky to call many of the recipients our good friends. Past recipients include Bill Hughes, Donna Branham, Chuck Nelson, Mary Wildfire, Cindy Rank, Wilma and Terry Steele, Larry Gibson, and Si Gal-perin.
This year, it is our honor and privilege to present Randi Pokladnik with the 2020 Laura Forman Passion for Justice Award.
A long-time OVEC member born and raised in eastern Ohio, Dr. Pokladnik has lived in the strip-mined coal counties of Jefferson and Harrison for over 60 years. An environmental scientist and retired research chemist, Dr. Pokladnik earned an associate degree in Environmental Engineering, a BA in Chemistry, and MA and PhD in Environmental Studies. She is also certified in hazardous materials regulations and holds teaching licenses in science and math.
Dr. Pokladnik knows that clean water is instrumental to maintaining and sustaining communities all along the Ohio River and beyond. She has been involved in the creation and development of the ORSANCO Watershed Organizations Advisory Committee (WOAC) since its inception.
"Her ability to understand the technical details of water quality reports, pollution control standards, and even the toxic contents of fracking waste has been instrumental in informing both the members of WOAC, and many of the Commissioners about these issues," says Robin Blakeman, a project coordinator with OVEC. "She is incredibly good at asking pointed and effective questions that get to the heart of problematic issues."
Dr. Pokladnik is also a brilliant writer and scholar who frequently contributes to publications and hosts educational workshops across the region about a variety of topics including the impacts of plastic on environmental quality and human health, waste management, water quality, and many other issues. On countless occasions, Dr. Pokladnik has lent us her expertise on these urgent matters and has been instrumental in our ability to help educate and inform the public about these concerns. 
Like her fellow Laura Forman Passion for Justice Award winners, Randi is an invaluable asset to OVEC and our mission. Her selfless volunteerism makes our part of the planet a better place for all of us — She is truly a hero in our eyes.
Dr. Pokladnik will be giving a virtual presentation on September 16 at 6:30 p.m. During her presentation, Randi will explain the life cycle of plastic production and follow plastics from cradle to grave, examining all the externalities involved and how plastics affect human health and the environment. To register for the program, send an email to srieger@doverlibrary.org. You will receive a link to join the group for the presentation.