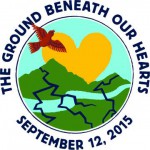 Mark your calendars now and join OVEC, the Catholic Committee of Appalachia and the WV Chapter of Sierra Club on September 12 for a very special international event, The Ground Beneath Our Hearts! This will be a worldwide celebration of our love for the beauty of our homes and heritage in places that have been terribly damaged by extractive industries. OVEC will be hosting an Appalachian celebration at Kanawha State Forest (Shelter #6) beginning at 11:00 a.m.
Participants are asked to bring two items from the ground close to their hearts; 1) a natural item like a rock, flower, leaves, etc., and 2) an item with a story or meaning that they can share briefly with the group, such as a quilt, a piece of pottery, a keepsake – anything that has personal and cultural meaning. (These will be returned at the end of the celebration.) The items will be transformed into a beautiful "celebration sculpture" by the participants as they share in song and story. This sharing will be a very important part of our day — celebrating the things we love about our heritage, while acknowledging that places of great beauty have been lost.
Participants are invited to personalize words to The Ground Beneath Our Hearts song, replacing the words "deep roots and strong ties" ("these are the things that keep me here") with something else meaningful to them. The song will be sung as a closing piece at the event, and will be filmed to become part of a documentary of this event, stitched together with other The Ground Beneath Our Hearts celebrations from various places around the world. Here's the sheet music for the song:
GroundBeneathOurHearts-NewFont

Listen to and sing along with the song on YouTube, here.
Food will be provided, but, if possible, bring a salad or dessert to share.
So put September 12 on your calendar and come celebrate The Ground Beneath Our Hearts! For more information about the international events and sponsoring organization, visit the website www.radicaljoyforhardtimes.org.
If you are on Facebook, be sure to "like" The Ground Beneath Our Hearts overall Facebook page as well as our specific Appalachian celebration page. Please invite others to do so too.
OVEC would like to thank the Jesse Smith Noyes Foundation and the Appalachian Community Fund for helping to fund this event.
If you want to help plan OVEC's celebration or want more information, contact Tonya at tonya@ohvec.org or 304-522-0246.