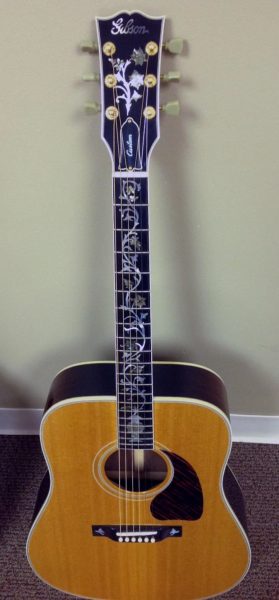 An anonymous donor has once again donated an amazing Gibson guitar to OVEC.
This Gibson Custom guitar (more photos below), built with sustainable Chechen wood, is in excellent condition and ready to be played. It was built in 1994 and is signed by the builders, master luthiers Ren Ferguson and John Walker. This guitar may be one of a kind!
It's value is  $7,500; proceeds from the guitar's sale will go to OVEC and two other groups, plus, some of the proceeds will become part of the prize money available to the winners of an environmental songwriting contest.
OVEC's taking bids on the Gibson, so if you are interested in buying the guitar or have questions, please e-mail info@ohvec.org. The winning bidder will also have to pay shipping and insurance costs.
Jaeger Guitar Werks, Inc. (600 Richmond Rd., Staunton, Va. 24401; 540-290-9252) inspected the guitar and offered this report:
Date: 2/20/16
Instrument: 1994 Gibson Chechen Jumbo #92714002
A full inspection was performed on this guitar today at my shop.
All braces were visually inspected and tap tested with no problems found.
The neck angle was checked and was in perfect set.
The string height/ action is set for Bluegrass style playing, but there is plenty of room for adjustment in the saddle height.
There is a sign of "Bridge pulling" in the finish at the front edge of the bridge. This is fairly common on guitars that stay strung and don't get played. The Bridge was checked, and was secure.
The guitar was re-strung and all tuning machines functioned perfectly.
A visual inspection of the finish was done while cleaning and was near perfect.
Of special note: The top is signed and dated by the builder under the pickguard area.
This guitar is perfect playing condition and could be set up reasonably for any player and would be a beautiful one to own.
Thanks,
Rod Jaeger, Owner/Luthier