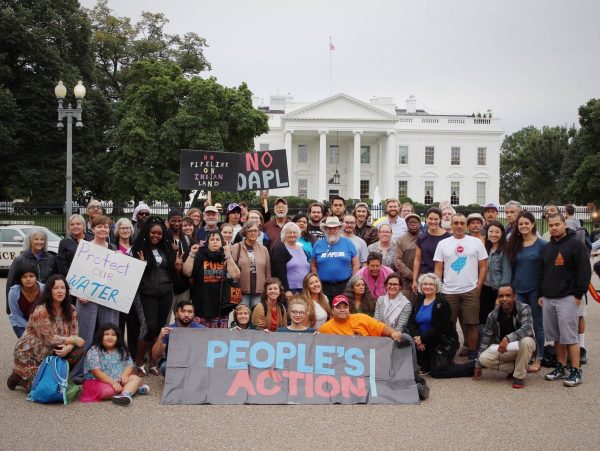 During the last week of September, I went to Washington, D.C. with a couple other OVEC members in a trip organized by WV Citizens Action Group. There were fourteen of us from West Virginia, traveling in two vans and a car. Other OVEC members on the trip (at least the ones I knew) included Rose Edington, who is on OVEC's board, and Norm "Ferg" Ferguson. Rose was MC for speeches at the three locations where we speech-ified; details below.
In D.C. we joined about 60 people from six other states (see top photo), under the leadership of the new national organization, People's Action. Our primary purpose was to stand with EPA in the lawsuit filed by 27 states and some corporations against the Clean Power Plan, which would limit greenhouse gas emissions from power plants. All ten justices of the D.C. District Court heard arguments from both sides that day; we were out on the sidewalk alternating speeches and chants. (Read my speech here.)
Although that rally was our primary purpose, there were three other gatherings. One was organized at the last minute when the Climate Action team from People's Action found out that there was a press conference in support of the Standing Rock tribe, which is fighting the Dakota Access Pipeline. This "black snake" would transport crude from the Bakken fields in North Dakota to Illinois. You probably know that thousands of Native Americans from 200 tribes have stood in support with the local tribe, in an encampment they say they will maintain through a North Dakota winter. To me, this is the most exciting and inspiring action in decades; I was very pleased to be able to stand up in public support, in a rally that followed the press conference. 
The other two events followed after the rally in front of the courthouse the next morning, at locations not revealed in advance: the National Mining Association and the National Association of Manufacturers. Both have signed on as plaintiffs in the lawsuit against EPA, along with their many other crimes against the Earth (among the
speeches in each place, someone read off a rap sheet detailing how much they'd spent on climate denial, etc.). We blasted into the lobby of each building and ignored the security people ordering us to leave. Three people gave speeches in each of these places, interspersed with chants that made the walls ring. Did this actually accomplish anything? I don't know—but it was pretty satisfying. It was also heartening to spend a little time with activists from other places, including those in such short supply here—people of color. (According to 2015 Census data, less than 7 percent of West Virginia's population identify as people of color.) 
People's Action also has teams focused on Economic Justice, Racial Justice and other things; CAG is their WV affiliate, and we all will be working together again.