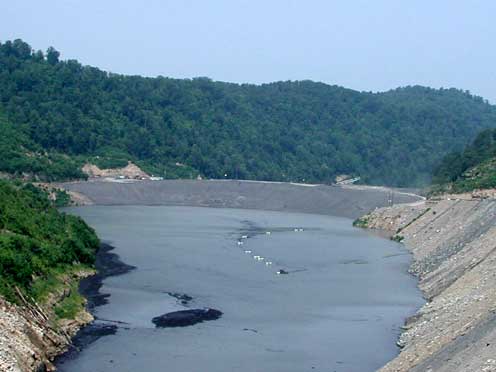 MSHA, the Mine Safety and Health Administration, is seeking comments on its recordkeeping and reporting requirements for coal waste refuse piles and coal slurry impoundments. MSHA seeks a renewal of its reporting requirements from the OMB, the Office of Management and Budget, according to this Federal Register notice.
We have until November 22 to comment in support of MSHA's continued gathering of information from coal companies regarding their coal slurry dams and waste piles. 
According to the notice, "These regulations require a coal mine operator to submit an annual report and certification on refuse piles and impoundments to the MSHA and to develop and maintain a record of the results of each weekly examination and instrumentation monitoring. Federal Mine Safety and Health Act of 1977 sections 101(a) and 103(h) authorize this information collection. See 30 U.S.C. 811(a) and 813(h)."
OMB is especially interested in comments that:
–Evaluate whether the proposed collection of information is necessary for the proper performance of the functions of the agency, including whether the information will have practical utility;
–Evaluate the accuracy of the agency's estimate of the burden of the proposed collection of information, including the validity of the methodology and assumptions used; 
–Enhance the quality, utility, and clarity of the information to be collected; and
–Minimize the burden of the collection of information on those who are to respond, including through the use of appropriate automated, electronic, mechanical, or other technological collection techniques or other forms of information technology, e.g., permitting electronic submission of
responses. 
Comments should mention OMB Control Number 1219–0015.
Submit comments by mail:
Office of Information and Regulatory Affairs
Attn: OMB Desk Officer for DOL–MSHA
Office of Management and Budget, Room 10235
725 17th Street NW
Washington, D.C. 20503
by fax: 202–395–5806
or by email: OIRA_submission@omb.eop.gov.