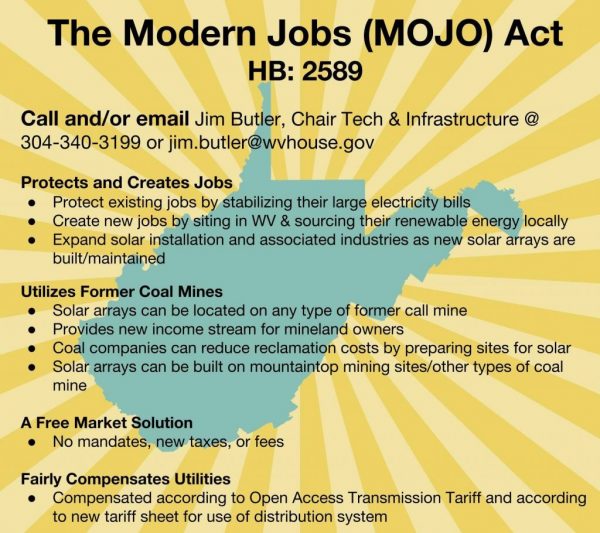 A guest blog from Logan Thorne:
If you are concerned about the economic future of West Virginia, please consider contacting Committee Chair of Technology and Infrastructure, Jim Butler, to voice your support for HB 2589 (The Modern Jobs Act). HB 2589 is a bipartisan legislative effort to give large electricity users the ability to protect and create jobs by providing them the freedom to purchase solar electricity generated on former coal mines.
This bill creates jobs and diversifies the economy. It helps manufacturers protect existing jobs by stabilizing their large electricity bills. It helps corporations with renewable energy targets site in West Virginia. And it grows West Virginia's solar industry, while putting old coal mines back into productive use. The economic and environmental benefits of the bill are undeniable, but we need your help to get it onto the agenda.
The fate of the bill currently rests with Committee Chair Jim Butler, who is responsible for deciding the committee agenda. Please call or email Delegate Butler today to voice your support for HB 2589 and ask for a fair vote (and don't forget to share this email with other concerned West Virginians. Please be courteous! You could be the deciding factor in whether this important bill moves forward!
Delegate Jim Butler
(304) 340-3199
Jim.butler@wvhouse.gov
Thanks!