Ohio Valley Environmental Coalition
Action Alert


Supporting Organized Voices and
Empowered Communities Since 1987
 

Oct 4, 2019

View / Comment Online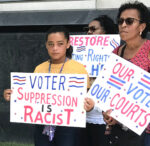 Please Take This Easy E-Action
Join the Movement! Sign the Petition: Ask WV Pols to Be #WVProDemocracy
Early on in OVEC's work to address environmental problems, we recognized the need to address a root cause of every issue we tackle: special interest money in politics. Politicians write the laws that are supposed to address these issues, and the courts step in when those laws are broken.
But, extractive industries can exert enormous influence over lawmakers and judges through hefty campaign contributions.
That's why, in 1997, OVEC joined forces with WV Citizen Action Group to co-found what came to be known as the WV Citizens for Clean Elections (WVCCE) coalition, which we still co-lead.
If you are fed up with politics as usual, don't give up: jump in! Get involved with our work with WVCCE. For starters, help West Virginia Citizens for Clean Elections advance the Pro-Democracy, Anti-Corruption Platform right now: sign our petition to members of the WV Legislature asking them to join you in supporting this set of common sense policy solutions. To learn more, e-mail vivian@ohvec.org.
---
Tonight! Community Movie Night: Screening of Time to Choose
Thanks to everyone in Huntington, statewide and around the world who took part in the recent week of climate strikes. There's a worldwide momentum for tackling the climate crisis, and solutions will be in the spotlight at this event tonight.
Join us tonight, October 4 from 7-9 p.m. for a free screening of Time to Choose at the First Congregational UCC, 701 5th Avenue, Huntington, WV, 25701.
Oscar-winning documentary director Charles Ferguson turns his lens to address global climate change in a new film showing the breadth of the climate challenge, the power of solutions already available, and the remarkable people working to save our planet—from American farmers and African villagers to Indonesian anti-corruption officials and Silicon Valley entrepreneurs.
As OVEC reported in this blog post, OVEC's Vivian Stockman, then our media liaison, helped researchers extensively before the crew arrived to film for the mountaintop removal portion of the documentary. Once the crew was here, Vivian served as an on-the ground and aerial guide. We are thrilled to have played a small part in this big film!
Free! Join the event on Facebook here, and please do invite your friends.
---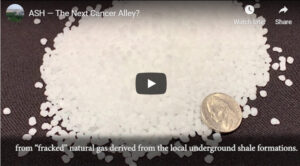 Speaking of The Big Screen: Our ASH Videos Are Here
Okay, for now, these are only on your smaller screens, but ICYMI, do check out the amazing videos produced by our summer intern Evan Gilland, a student of documentary film making at Ohio University. They are all about the proposed Appalachian Storage Hub/petrochemical complex (ASH). Find more info, and a link to each of the videos in this blog posting from OVEC's Alex Cole. Watch 'em, share 'em, and then, for climate's sake, get involved in the movement to stop this petrochemical complex by contacting alex@ohvec.org and/or dustin@ohvec.org. Oh—we have a fresh stock of #NoASH bumperstickers, so ask us for one for your bike or your vehicle.
---
Get Social With Your #NoASH Action: Show Your Opposition to the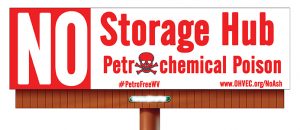 PTTG Cracker Plant
If you use social media, join in to show your opposition to the PTTG ethane cracker plant, which would be one component of the proposed Appalachian Storage Hub/petrochemical build-out. To take action, check out the info here.
And, come out to learn more about the health and environmental impacts of ethane cracker plants at 6 p.m. on Wednesday, October 9, at the Moundsville-Marshall County Public Library, 700 5th St., Moundsville, WV, 26041. Details here.
---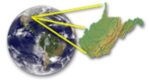 RSVP Now, Then Join Us on October 12 for WV Environmental Council's 30th Anniversary Meeting!
Don't miss this picnic event at Coonskin Park in Charleston on Saturday, October 12 from noon to 4:00 p.m. Find more details here, then click here to sign up for the annual meeting online and pay by credit card in advance. Or just sign up and bring cash or a check to the event.
---
This Weekend: The National Solar Tour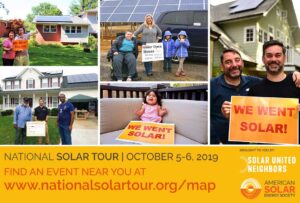 This largest-ever grassroots solar event in the country is this weekend, October 5 and 6! There are more than 750 solar open houses and local tours participating in 47 states.
Visit the map to find a solar open house near you and RSVP to let the hosts know you'll be stopping by. The Tour is free and open to the public.The National Solar Tour is a unique chance to learn about solar in your community. Visit a solar installation, learn how it works, and chat with the owner. There are lots of sites to visit, including:
• Hundreds of solar homes
• Small businesses
• Schools
• Religious institutions
• Community organizations
• And many more
The Tour is a great educational opportunity for everyone, homeowners, students, business owners, and solar enthusiasts!
---
A Sad Farewell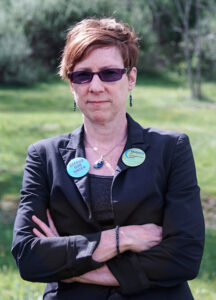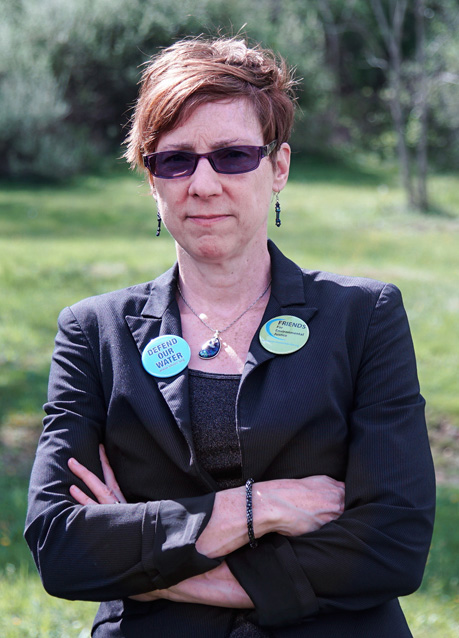 With heavy hearts, the staff and board of OVEC extend our deepest condolences to the family and friends of April Pierson-Keating, founder of the Mountain Lakes Preservation Alliance and fierce defender of the water, air, land, and people.
A posting on April's Facebook page says: We will celebrate April's life and acknowledge her relentless work on Friday, October 18, 2018 from 4 p.m. – 9 p.m. at the Buckhannon Opera House, 12 E Main St, Buckhannon, WV 26201. Come when you can, leave when you must. Refreshments will be provided. Everyone will have an opportunity to share memories. Please bring local or special water for a blending ceremony if you would like to participate.
OVEC's Robin Blakeman is organizing a carpool from the Huntington area. If you would like a ride, or have space in your car for someone else, please contact robin@ohvec.org right away.
---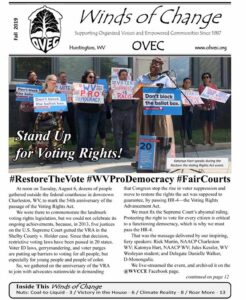 Thanks to Everyone Who Contributed to Our Summer Fundraiser
Thank you so much if you joined and/or donated to OVEC during our summer fundraiser. We have one pledge of $1,000 outstanding that will put us over $20,000, about $10,000 shy of our goal. It's never too late to donate or join, though, so please do so today. We've got a new system for online donating that should be easier to navigate, so please try it out, here.
If you need a little convincing about why OVEC is a good investment for your charity giving, check out our Fall newsletter, which is now online. We think you'll see the work we do is worthy of your support!
---
October Calendar of Events
Today, October 4: Screening of Time to Choose
Tomorrow, Saturday, October 5: Tri-State Water Defenders Meeting
This weekend, October 5-6: National Solar Tour
October 9: Public Meeting on the Results of Air Quality Monitoring Around Ceredo Compressor Station
Join us for a public meeting on the results of the air quality monitoring we conducted with families living near the Ceredo Compressor Station. The meeting takes place at the Spring Valley Presbyterian Church, 1129 Spring Valley Dr., Huntington, WV 25701. Learn more here.
October 9: Health and Environmental Impacts of Ethane Cracker Plants
October 12: WV Environmental Council's 30th Anniversary Meeting!
October 17: Kickoff Event to Celebrate the Passage of the 19th Amendment
October 18: Celebrating April Pierson-Keating: An Evening of Sharing & Love
Be sure to check our online calendar often, as will we add more events for this and upcoming months.