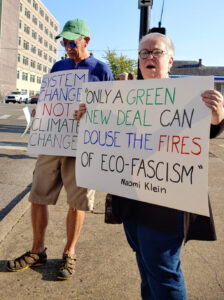 In the midst of the recent Climate Strike week of events (for some of the local happenings, see photo at left and more below), I attended a one-day conference on climate and health issues, held at the WVU Law Center. Sponsoring groups included Friends of the Blackwater, which has been a lead group on raising awareness about endangered species in West Virginia.
Conference organizer, Logan Thorne, Director, West Virginia Center on Climate Change, wrote:
While we were gathering in Morgantown, others were assembled at the United Nations, where Swedish activist Greta Thunberg delivered a warning to world leaders.  Here in West Virginia, we feel connected with Greta—and her urgent message that we must "unite behind the science" to defeat the climate crisis.
This was a powerful gathering of scientific, public policy, and legal minds.
You can view presentation slides and watch video recordings of the sessions on the webpage for the conference.
An impressive line-up of presenters included the following:
Dr. Lise Van Susteren, M.D., Practicing General and Forensic Psychiatrist, Washington, DC, Former Assistant Clinical Professor of Psychiatry, Georgetown University Department of Psychiatry
Dr. Susan Clayton, Ph.D, Whitmore-Williams Professor of Psychology and Chair of Environmental Studies, College of Wooster
Dr. Ned Ketyer, Pediatric Physician, Consultant, Southwest Pennsylvania Environmental Health Project
Dr. Nicolas Zegre, Ph.D., Associate Professor of Forest Hydrology, West Virginia University, Director, WVU Mountain Hydrology Laboratory
Shana Udvardy, Climate Resilience Analyst, Climate & Energy Program, Union of Concerned Scientists
Dr. Bernard D. Goldstein, M.D., Professor Emeritus, Environmental and Occupational Health, University of Pittsburgh Graduate School of Public Health delivered the key-note address during the lunch hour. 
Essentially, the messages delivered at this conference can be summed up by ten words: experts (scientists) agree: it's real, it's our fault, it's bad!
Dr. Ned Ketyer said: "Physicians must use their voice…Climate change is a medical emergency [due to the effects on more vulnerable populations, including pregnant women, infants, children, poor, elderly, and those with pre-existing medical conditions]."
Dr. Lise Van Susteren said: "Nothing can be changed that isn't faced… the public needs to be warned; yes, they need hope, but…" She went on to cite statistics about the fact that 17 of the last 18 hottest years on record have happened since 2000, including the fact that 2016 was the hottest year on record, ever.
She pointed out that we humans aren't the only ones in danger; up to 50% of the world's animal species are at risk. Other increasing problems associated with climate change, Van Susteren says, are food insecurity, floods, air pollution, and infectious and vector born diseases.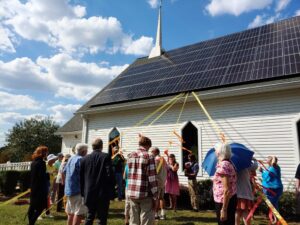 To spur people to action, she stressed the need for people to find an emotional connection (i.e. empathy) for some aspect of our world that stands to be radically changed or destroyed by climate change. She and other speakers pointed out the mental health effects of climate change, too, including the phenomenon of solastalgia—or "eco-anxiety"— which is a growing problem in WV. 
The Union of Concerned Scientists, as represented by Shana Udvardy, presented some very powerful recently compiled information. Their full reports are worth reading.
As I was traveling to and from this conference, I witnessed both a growing sign of concern, and some dramatic signs of hope. While traveling, almost all the leading stories I heard on NPR were related to climate marches and strikes, but the most impressive sign of hope I witnessed was a dedication of solar panels at a small rural church in WV.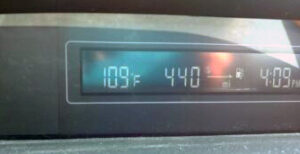 On that same day, however, when I returned to my car to go home, the temperature gauge read 109 degrees. One thing that most scientists agree upon is that an increasing amount of very hot days are ahead for us if we allow climate change to continue accelerating at the current rate. Writing this blog on a 90+ day in October, I really fear that this is the "new normal." Friends, we really must act on climate!
Photos from Local Climate Strike Week Events