Come one, come all on May 16 to the 2015 Sustainability Fair from 10 a.m.  – 10:30 p.m. at the historical Heritage Station, 210 11th Street (Diamond Teeth Mary Way) in Huntington, WV. Free!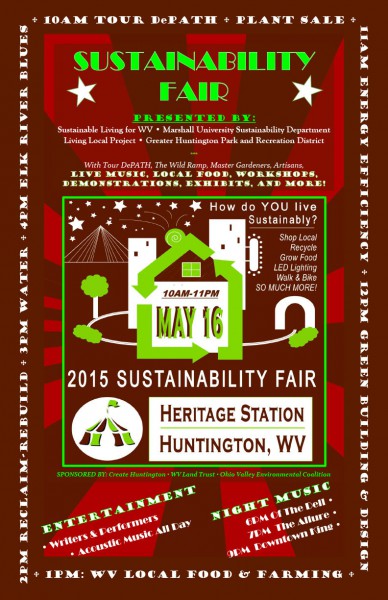 Enjoy an inspiring keynote address, workshops, demonstrations, exhibitors, live music, youth activities, local foods, green building, transportation, sustainable energy, resource conservation, urban agriculture and much more.
Workshops until 5 p.m. on renewable energy, sustainable economic development, food and agriculture, health, green architecture / housing, eco-tourism, public policy, alternative transportation, local small businesses, 2015 Sustainability Fair
A "Sustainable Feast" taste-around style dinner from 5:30 – 7:30 p.m. Cost of $25. Other local restaurants also open on site at Heritage Station and nearby for alternative dinner options.
Live music from 7:30 – 10:30 p.m. wraps up the fair activities. Please visit: www.sustainablelivingforwv.org for updates.
Technology Recycling:  If you have old computers, monitors, keypads, cellphones – bring them along and e-cycle them with Goodwill Industries.  Their truck will be parked in 2 ½ Alley.  No TVs this time.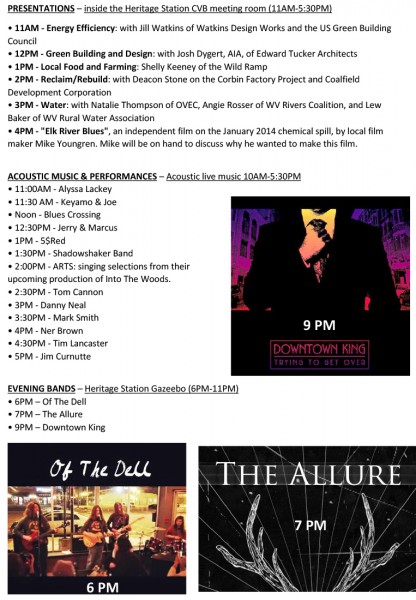 Spearheaded by Sustainable Living for WV in conjunction with our co-sponsors including: Greater Huntington Park & Recreation District; Marshall University Sustainability Dept.; Living Local Project. Additional support from Ohio Valley Environmental Coalition, Davis & Elkins College Center for Sustainability Studies and local small businesses.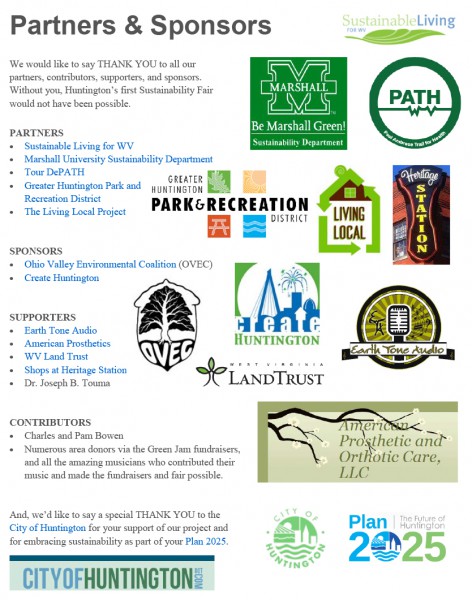 Hope to see you there!