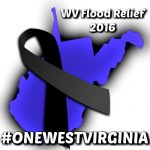 Update, 2017: 
2016:
September 2 update: Disaster recovery centers to close Wednesday
August 18 update: Volunteers sought for free Elkview health clinic and Home-building project for flooded residents set in Rainelle 
August 17 update:  Deadline to apply for FEMA aid extended to Sept. 7
August 14 update: Clay flood victims fight invisibility and WV Still Needs Flood Relief Volunteers!
August 10 update: Two Weeks Left to Apply for Federal Disaster Assistance
August 7 update: Debris site remains open; FEMA deadline approaches
July 30 update: Committees aim to coordinate long-term flood recovery efforts 
July 21 update: Flood Victims Can Get Disaster-Related Food Stamps
July 16 update: Huntington was hit with flash flooding on July 14. An assistance station has been put in place at 15th Street and Washington Boulevard. Cleanup kits and cleaning supplies will be distributed from 8 a.m. to 4 p.m. Saturday, July 16. Residents who would like to have assistance with flood cleanup are asked to come to the station and sign up. Volunteers will be on site Saturday to provide cleanup assistance to those who have signed up. For additional assistance or information, citizens can call the Emergency Operations Center at 304-526-6544.
For those hit by the June 23 floods: Buddhist group to give money to flood victims Saturday and Sunday
July 10 update: As headlines recede, critical flood relief needs continue to rise
College students can receive assistance in wake of flooding
July 7 update: W.Va. Library Commission Raising Funds for Flooded Libraries
Businesses Devastated by Flooding Can Get Help to Rebuild
The latest: More federal aid set for WV; additional resource centers open
July 5 update: "Sometimes in West Virginia, we're stoic people," Yost said. "We take care of our own. People are sometimes hesitant to admit that 'I'm not doing well with this.' Sometimes people don't seek services when we need them. I would say to people, help is available. Don't hesitate to ask for it if you need it, because we can help. People don't have to suffer in silence."
Need help and don't know where to find it? Call 211.
July 4 update: When will West Virginia recover from the flooding? Help needed
FEMA offers tips to flood survivors
July 2 update: "Flood-damaged communities are only at the beginning of a long-term recovery, though, and will require help for weeks and months to come... In lieu of household items.. financial donations are the best option for families whose homes were ravaged by the floods. This is because affected families are still living in temporary housing and have no room to store items like furniture or clothing.
….As for volunteering in the flood zones,  Volunteer West Virginia appreciates the mammoth number of volunteers but that there are other ways to contribute that are just as crucial… (such as) volunteering at or donating to a distribution center."
WV: 5,000-plus homes destroyed or damaged by floods: No sightseeing please! "People who are going to flood-ravaged areas to volunteer are encouraged to carpool and travel in groups… manpower currently appears to be a more critical request than donated goods… Volunteers can go through the Red Cross, at www.redcross.org, or Volunteer West Virginia, at www.volunteerwv.org or 304-859-3748..
… Flood victims who need help cleaning their homes or moving debris to the curb can call the Cleanup Assistance Hotline, at 1-800-451-1954. Curbside pickup will continue today for those who can bring debris to the curb. Officials say debris should be separated — appliances and large, bulky objects should be separate from garbage or bags of trash. Paint and hazardous material will need to be separated into a different area for collection." 
SNAP recipients can get help replacing food lost in floods
Free legal assistance available for flood victims
July 1 update: See this page on the Charleston Gazette-Mail's website for more info on how to get help and how to help. Also, volunteers needed to help sort donated items in Clay County. See the last few paragraphs of this article for details. The state Insurance Commissioner's Office has created this website to help citizens navigate the flood claims process. For all kinds of info be sure to see WVFlood.com.
——
If you are looking to donate items, time or money to help people harmed or devastated by the June 23 floods that caused state-of-emergency declarations for 44 of West Virginia's 55 counties, here are some updates. (To stay up-to-date, search #WVFlood on social media.)
Personal hygiene items, such as toothbrushes and feminine products, cleaning supplies and bottled water are among the items in high demand in Clendenin, according to our organizer Dustin White, who, post-flood, has volunteered some time at the clinic there. (While she is on sabbatical this month, OVEC organizer Robin Blakeman is also volunteering to help with flood recovery efforts in Greenbrier County.)
Dustin adds that antibacterial ointment, soaps, white socks, men and women's underwear, insect repellent, sun screen, sunburn lotion, chap stick, heavy duty work gloves, work boots, face masks and eye wash and drops (the recovering areas are very dusty now) would all be useful.
He also notes that residents who have come in contact with flood water and debris need to get their tetanus vaccination if they have not had one in the last five years or can't remember when they last had the vaccine. Vaccination stations are set up in relief areas administering T-DAP vaccine to prevent tetanus, diphtheria, and pertussis (whooping cough). Flood-relief volunteers should also get the vaccine, which may be available at county health clinics. (More on that below.)
Media reports also say those items, as well as infant items such as formula and diapers, are in high demand. Here's a list of useful items you can donate.
OVEC projector coordinator Natalie Thompson, who has been helping coordinate flood relief donations and transportation in the Huntington area and beyond, says the aforementioned supplies are indeed still in high demand, but donations of outerwear are less useful at the moment.
Natalie emphasizes that people are in need of plastic totes, to store photos and other keepsakes they manage to salvage from the flood debris. Other high demand items include shovels, deck brooms, buckets, and wheel barrels.
So many churches, fire departments, businesses and other groups around the state have set up drop-off spots for donations of supplies, you likely won't have to go far to help out.
If you want to volunteer to help with clean-up, register with WV Voluntary Organizations Active in Disasters. If you plan to volunteer, do get that tetanus booster shot if you haven't had one in the last 5 years or so.
You can safely donate funds through WV VOAD; specify WV VOAD Disaster Relief Fund when you donate.
WVFlood.com is a fabulous resource for safely donating and staying current on the needs of folks hard hit by this flood, as well as for finding help if you need it (more on that below). The WV Hub reports:
To coordinate the numerous efforts to aid flood victims, the West Virginia Voluntary Organizations Active in Disaster, is working with volunteers to run the website wvflood.com.
This website houses a compilation of drop-off sites for supplies, shelter locations, online fundraising efforts, and a comprehensive list of the items needed in flood-impacted communities.
Unfortunately, there have already been some fraudulent scams posing as flood fundraising campaigns. And so the West Virginia Attorney General's office has verified all resources posted to wvflood.com.
Philanthropy West Virginia has a list of foundations across the state to which you can contribute for county-specific donating.
100% of donations to the United Way of Greenbrier Valley go to flood relief. Other places to donate include the Red Cross; choose West Virginia Floods under "Use my donation to support." You can use PayPal to donate via the good folks at Aurora Lights. You can also, with caution, investigate many of the online donation drives that have popped up.
Find more tips on donating time, supplies or money here: How To Help West Virginia Flood Victims.
The WV Division of Agriculture lists some of the shelters are open for pets in the wake of flooding events: