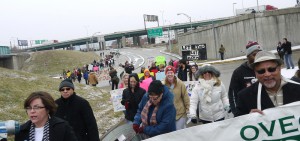 Below are some talking points for the WV American Water rate case hearings coming up in Weston, Huntington, Fayetteville, Mercer County and Charleston (details on time and place for each of the hearings are also below).
According to the Charleston Gazette, "The company has proposed a 28.18 percent water rate
increase, which would total more than $35 million annually. That rate request, which would affect 168,000 customers in 19 counties, is controversial following the January 2014 Freedom Industries leak and recurring leaks in Dunbar the past two weeks that left thousands of people without water."
We encourage you to attend the hearing nearest you. Here are some talking points to help you formulate your own comments.
– WV American Water is proposing a 28% average rate increase – for residential customers, the proposed rate increase is actually 30%
– WV American Water is not doing enough to ensure a safe and reliable water system and they should not be rewarded for their failures.
– At the current rate of investment, it would take 384 years to replace all of the mains in the system. This is clearly not sustainable. Yet the water company has said that even if they get their 28% rate increase, they do not plan to significantly increase the rate of water main replacement.
– The 28% rate increase would give WV American Water a higher profit margin.
– Because of their lack of investment in infrastructure, WV American Water experiences a high rate of leakage. More than a quarter of water is lost before it reaches customers.
– In Huntington, WV American Water has admitted that it does not have reliable testing for microcystins and that their laboratory facilities are not accredited or certified for many analyses. We don't know what WV American Water is doing to treat this incoming toxin and have no information to judge the effectiveness.
Dates, time and locations of the WV Public Service Commission's public hearing on West Virginia American Water's rate case:
September 30: at 1 p.m. and 6 p.m. at the Lewis County Courthouse in Weston
October 1: at 1 p.m. and 6 p.m. at Marshall University's Foundation Hall in Huntington
October 7: at 1 p.m. and 6 p.m. at the Fayette County Courthouse
October 8: at 1 p.m. and 6 p.m. at the Mercer County Courthouse
October 26: at PSC HQ in Charleston
—- Also coming up: October 27: 9:30 a.m. The WV Public Service Commission's evidentiary hearing on West Virginia American Water's pending rate increase case. The Kanawha County Commission, the Regional Development Authority of Charleston – Kanawha County and the Advocates for a Safe Water System have all been granted intervenor status in the case. American Water had opposed Advocates for a Safe Water System's petition to participate in the case.