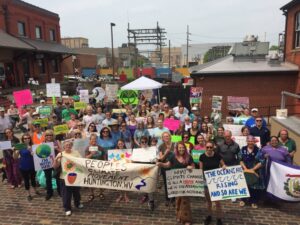 Perhaps you've heard that Swedish School Strike for Climate spokesperson, Greta Thunberg is in the United States and leading Climate Strike events and want to know how you can get involved.
To date, there are more than 600 Climate Strike registered events in the next week! Check with 350.org for events all over the country, and globe.
Here's a list of WV Climate events coming up over the following week to ten days. Please share these dates and links wherever possible:
9/14: Zero Waste football game, Marshall University stadium, Huntington, WV
9/17: Poster making party for Climate events at the OVEC office!
9/19: Climate Crisis "Third Thursday" protest outside Cabell County Court House
9/20: Climate Strike event on MU campus!
From the MU Sustainability Department: Friday, September 20, there will be a climate change awareness rally on Buskirk Field – in the center of MU Campus, behind the MU Campus Christian Center and Student Center – at 3 pm.
9/21: Morgantown Climate Change and Public Health Seminar
9/22: Solar Panel Dedication, 3pm Glenville Presbyterian Church, 1172 WV Highway 5 W, Glenville, WV 26351
9/23-27:
Other events – to be announced – sponsored by MU Sustainability Department, including this 9/25 event.
9/26:
Charleston Global Climate Crisis Rally at the RC Byrd Federal Courthouse in Charleston on September 26th from 5:30 to 6:30. WV-Citizens Action Group, WV Citizens' Climate Lobby are co-sponsoring groups so far. An event post for social media is being developed.
Please plan to attend an event in, or near your community; do NOT sit this out!
Contact Robin@ohvec.org for more information.