Starting June 20, the Citizens Climate Lobby will once again head to Capitol Hill in Washington, D.C., to let our representatives and senators know that the folks back home are demanding action on climate disruption.
This year, six members of the WV CCL will be in D.C. to train, then lobby for the political will to curb CO2 emissions! You can help without travelling to D.C. WV CCL has a simple letter that you can fill-in. Download this, print, add your own words, sign and then get the letter to WV CCL before June 20.
Completed letters can be delivered several ways:
– Scan and e-mail them to charlestonwv@citizensclimatelobby.org;
– Snail mail them to:
Jim Probst
7419 Hamlin Rd
Hamlin, WV 25523
– Bring them to the next WV CCL meeting at noon on June 6 at the WVSU EDC building, 1506 Kanawha Blvd W., Charleston, WV
Your completed letters will be hand-delivered to the offices of Senators Manchin and Capito and Representatives McKinley, Mooney, and Jenkins. Help the in-person lobby team demonstrate how many West Virginians want action now. Write a letter today!
Increase your impacts by asking family and friends to write letters, too!
Remember, WV CCL leaves on June 20, so write those letters now.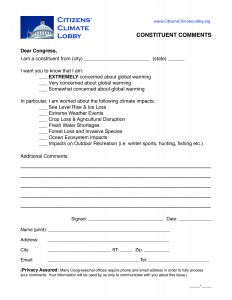 —-
Watch CCL's video here.
The Citizens Climate Lobby (CCL) is a non-partisan grassroots organization of volunteers working to build political will for a stable climate. For more information about the West Virginia group, contact Jim Probst at 304-824-5916, or email charlestonwv@citizensclimatelobby.org.
The public is also invited to visit the CCL website and sign up for the introductory conference call that takes place on every Wednesday evening, providing an opportunity to learn about the organization's founding, goals and methods.