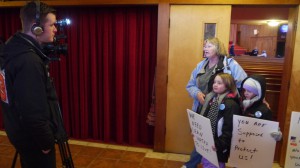 Over the next two weeks, the Women and Water Campaign will host two "Women and Water Listening Sessions."  These sessions, happening on the heels of the WV Testing Assessment Project (WVTAP) Health Expert Panel and the recent debacle surrounding the dumping of MCHM in the Hurricane landfill, are an opportunity for women to come together to discuss concerns around the recent water crisis (otherwise known as the largest drinking water chemical contamination in U.S. history) and learn information about the possible effects on women's health from chemical exposure.
Join a listening session on Thursday, April 3 at First Baptist Church, 432 Shrewsbury Street,  Charleston, WV, in the downstairs conference room.  This session is hosted by BMEEK Community Outreach Program Inc.
Or, come out on Thursday, April 10 for the listening session, to be held at the Putnam County Courthouse, Committee Chambers, 3389 Winfield Road in Winfield, WV.
Both sessions are free and open to all women and families.  They will be kicked off by a reception at 6:30 p.m. and will run from 7:00 to 9:00 p.m. 
The Women and Water Campaign, a WVFREE project, was developed in response to the Elk River chemical spill when women's health concerns began to emerge.  Information captured from these sessions will be compiled in a report to assist decision and policy makers with recommendations supporting women's environmental health moving forward.
"Women & Water Listening Sessions" are co-sponsored by WVFREE's Women and Water Campaign, People Concerned About Chemical Safety, West Virginia Citizens Actively Protecting the Environment, West Virginia Citizen Action Group, OVEC (Ohio Valley Environmental Coalition), and the West Virginia Healthy Kids & Families Coalition.
For more information on the events or to schedule a Women and Water Listening Session before April 18th in a community affected by the Elk River chemical spill, contact Maya Nye at maya@chemsafety.org.