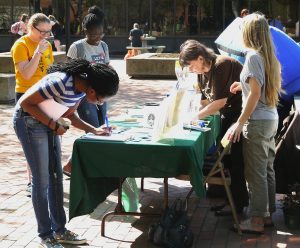 OVEC, based in Huntington, WV, is seeking an energetic, enthusiastic individual to recruit and coordinate new and existing volunteers and members in order to build and strengthen our base.
We offer a safe and comfortable work space, and will provide all necessary technology and materials for this position.
OVEC's Volunteer/Membership Coordinator will be overseen by OVEC's Project Coordinator and will collaborate with OVEC staff, volunteers, members, and allies in our working region in order to uphold our mission:
Our mission is to organize and maintain a diverse grassroots organization dedicated to the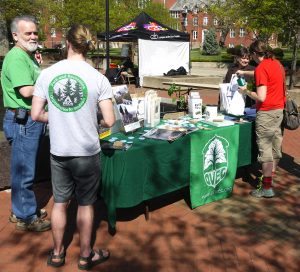 improvement and preservation of the environment and communities through education, grassroots organizing and coalition building, leadership development, strategic litigation and media outreach.
General Qualifications:
High School Diploma or GED, post high school education preferred
Current driver's license
Ability to work 20 hours per week, including some evenings and weekends for scheduled events
Self-motivated and able to work independently
Proficient in Microsoft Excel and Microsoft Word for record keeping and updating data; knowledge of and use of Social Media
Willingness to learn and master OVEC's Donor Pro software
Strong organizational skills
Strong commitment to social and environmental justice
Strong written and oral communication skills; comfortable speaking to groups
Outgoing personality with the ability to actively listen to others
Ability to recruit, engage, and direct volunteer members
Specific Tasks:
Recruiting/engaging new members and volunteers
Developing an "OVEC Volunteer Code of Conduct"
Attending monthly staff face-to-face meetings
Volunteer development in coordination with OVEC organizers
Membership development, new member follow-up communication, and assistance in member retention
Social media outreach (Facebook, Twitter, You Tube, Instagram)
Documenting OVEC event details and participation
Representing OVEC at tabling and/or other participatory events
Occasionally driving and/or scheduling carpooling for OVEC events and tours in various areas of our working region
Conducting volunteer evaluations and maintaining sweat equity hour logs
Using Microsoft Excel, Microsoft Word and Donor Pro for record keeping and updating data
Staying up-to-date on OVEC program work
Learning OVEC history and culture
As a part-time, regular staffer, anyone in this position who maintains continuous regular employment status is eligible for at least prorated employee benefits, annual leave, paid holidays, and paid sick leave under the conditions specified in OVEC's Employee Handbook, after the 90-day probationary period. This position may evolve into a full-time opportunity.  Compensation is negotiable based on experience.
OVEC is an equal opportunity employer. People of color, women and LGBTQ applicants are strongly encouraged to apply.
By June 10, send a resume and cover letter describing why you are best suited for this position.
Email:  info@ohvec.org

U.S. Mail:
OVEC Search Committee
PO Box 6753
Huntington, WV 25773