Ohio Valley Environmental Coalition
Action Alert


Supporting Organized Voices and
Empowered Communities Since 1987
 

Feb 24, 2021

View / Comment Online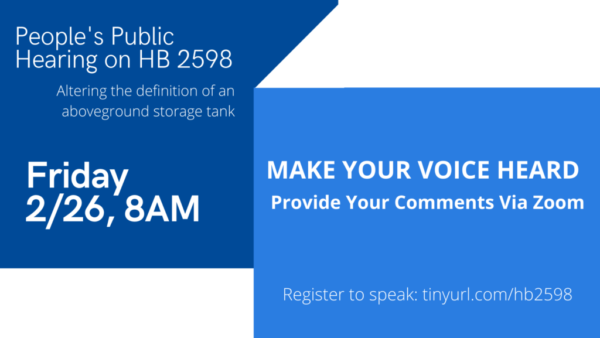 A resurrected bill to exempt oil and gas tanks from the Aboveground Storage Tank Act, HB 2598, is moving swiftly through the West Virginia House of Delegates. This bill would deregulate and remove inspection requirements for storage tanks in zones of critical concern, many of which are located near public water intakes. Concerned community organizations such as OVEC, as well as individual citizens, have formally requested a public hearing to allow citizens to voice their concerns about the bill on the record, but House leadership has rejected those requests.
OVEC and our partner organizations are stepping up to ensure the voice of the people is heard. Join us on Friday, February 26 at 8:00 a.m. for a People's Public Hearing to be held via Zoom. This hearing is non-partisan and open to the public. All legislators from the House of Delegates and Senate will be invited to attend.
Please register to attend and indicate in your registration if you choose to speak. Only registrants who have indicated they wish to speak before 8:00 p.m. on Thursday, February 25 will be granted time. Participants will have 1-2 minutes to speak depending on registration. Speakers will be called upon in the order registrations were received.
The People's Public Hearing will be recorded and provided to the House as an official record of citizen comments. If you are unable to speak during the People's Public Hearing, please provide your written comments here.
With COVID-19 restrictions at the Capitol limiting access and information, it is more crucial now than ever that citizens have the opportunity to participate in their democracy. Join us in contacting delegates and letting them know that clean drinking water is crucial and not to be compromised to save money for corporations.