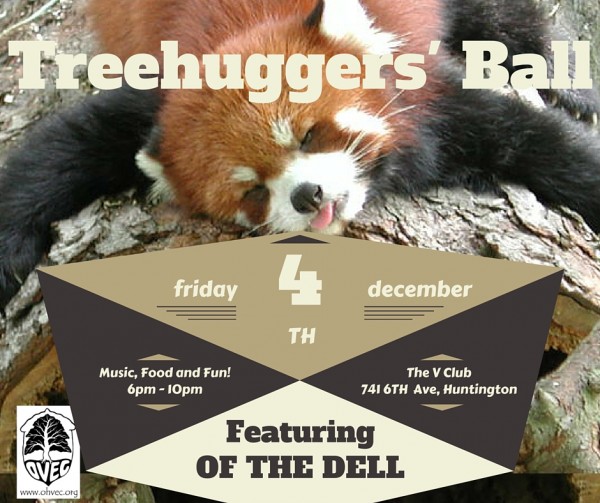 After a five-year hiatus, OVEC's Treehuggers' Ball is back! We hope you will join us! This will be our 19th Treehuggers' Ball Fun(d)raiser.
The fun starts at 6:00 p.m. on Friday, December 4, 2015 at the V-Club Night Club, 741 6th Ave, Huntington, WV, 25701.
This Treehuggers' Ball is presented and organized by the Board of Directors of the Ohio Valley Environmental Coalition; musicians and bands will include Karen Scalf, the Shadowshaker Band, Big Rock and the Candy Ass Mountain Boys, Moonshine Crossing and Of The Dell.
A new feature of the Treehuggers' Ball will be a food truck parked outside the V-Club during the event. Heirloom Mobile Kitchen focuses on locally-sourced ingredients and will offer vegan, vegetarian and meat options.
Throughout the years, OVEC has learned that in order to sustain environmental and social justice work, people need to take time out for fun. And that's one of the big aims of Treehuggers' Ball. Come on out and have some fun!
We'll have traditional THB favorites such as special-edition Treehuggers' Ball T-shirts and an auction of donated items and services, including items donated from Patagonia and a six-pack of ball room dancing lessons donated by Top Hat Ballroom.
Attire for the evening is casual or Christmas casual. Prize to be awarded for the best ugly Christmas sweater. Don't worry, your ugly Christmas sweaters may be covered with the purchase of a new Treehuggers' Ball T-shirt.
Heirloom Mobile Kitchen's likely menu for the evening:
Moroccan Chicken Wings — Gardner Farms' chicken wings with a sweet Moroccan sticky glaze, served with flatbread and a preserved lemon anf mint yogurt with pomegranate seeds;
Gardner's Pork BBQ — Gardner Farms' pork BBQ with a local vegetable kimchi on a seeded brioche bun;
Hunter's Stew — Gardner Farms' turkey, oyster mushrooms, local kale, and chili puree in a warm winter herb broth;
Vegan Fried Rice — local rice and pan fried tofu mixed with broccoli, cauliflower, carrots, sesame, and soy sauce;
Smoked Potatoes (vegetarian) — smoked local potatoes served with ramp aioli and a black garlic vinaigrette;
Brown Butter Chocolate Chip Cookies — with toasted pecans sprinkled with J.Q. Dickinson salt (nutless option available);
Pumpkin House Date Balls — date balls made from candied pumpkin seeds from the famous Kenova Pumpkin House, oats, local honey, and dried local apples, pears and dates.
Help spread the word: Invite your friends and family to come out, join and share the event on Facebook, share this blog and copy the graphics (above and below) in this post to share on social media.
Please do join us for a fun, delicious chance to mingle with old friends and meet new folks who care about the future of life on Earth.