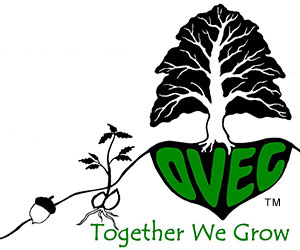 OVEC's  roots run deep. For 28 years, thanks to the help of folks like you, we've worked together to defend the air, land and water for the people and communities we love.
Now, we are pushing our roots deeper, so we can broaden our reach.
For the past 15 years, we've worked from a 750 square-foot second-floor apartment in Huntington, WV. During that time, our staff has doubled and our volunteer ranks have increased. We've been tripping over each other for a while now.
When the tenant in the downstairs shop front moved out last year, our landlord offered to let us buy the building (the apartment and the storefront). We said yes! We'll have first-floor space, making our offices accessible and visible, more transparent and open to folks to come learn about the challenges and opportunities that make our work worthwhile.
Once we are solidly rooted in our expanded workplace, we will be better equipped to support the needs of the communities we serve.
To make the best use of our new space, we have a goal of raising $60,000 for energy-efficient renovations and furnishings. For instance, here's some of what we'll need:
– Eco-friendly flooring
– On-demand water heaters
– LED lighting fixtures
– Electrical updating
– Expanded heating and cooling system
– Storage, shelving and furnishings
We are asking you to make a donation to our building fund in any amount you can comfortably afford. You can donate in support of our "Together We Grow" campaign online via secure sever or via PayPal.
You can also send a check with "Together We Grow" in the subject line to:
Attn.: Maryanne Graham
OVEC
PO Box 6753
Huntington, WV 25773-6753
Thank you!