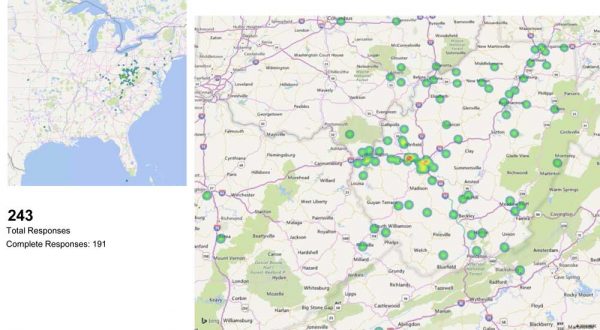 Thank you so much to everyone who took our survey during the final months of 2016! We sent an electronic version out to everyone in our database for whom we had an e-mail address. We also invited people to take the survey by following a link posted on our Facebook page and Twitter feed. 
We mailed out a print version to members for whom we have snail-mail addresses but no e-mail. We also mailed printed versions out to a handful of people who had trouble taking the survey online. You can see the print version at the bottom of this blog.
We Hear You!
Just so you know, we are still processing all the data. We really value your input and opinions, as well as the time you took to let us know what you think.
We will start to utilize your input in January and February, as we review our program work and update our three-year strategic plan. While we are still crunching data, we wanted to thank you and to share some of what we are hearing from you.
Above, you can see that 243 at least began the survey, and you can see the where folks who took the survey live. Below, you can see how respondents view their relationship with OVEC.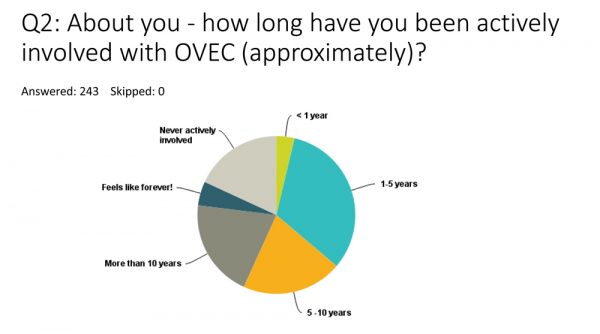 Question 9 read: How do you perceive the importance of OVEC to the community? Please "X" one.
__Very Valuable __Valuable __Somewhat Valuable __Slightly Valuable __Not valuable
__Not sure, don't know enough about the organization
Here's how you replied to that one: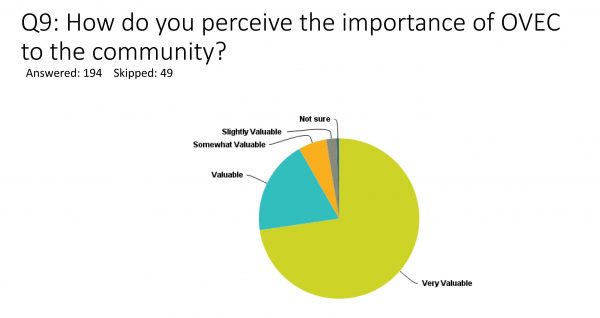 That's super swell!
Not everyone who took the survey responded to the question 10, which wondered: For your answer about number 9 above, why did you feel this is the value of OVEC to the community?
Beyond the "don't know" and "not sure" responses, below are all the responses we did receive.
We will continue processing your input. We do hear you, and we do thank you! 
Responses to Question 10
Have more reps from OVEC working on fracking.
You have done well.
Have a better understanding of the importance of property tax reform legislation.
Fight harder and don't back down from these sons a bitches.
More lobbying of legislators
Do what you do!
I really do not know. Most are unaware there is a big world out there and that momentous changes are occurring.
Think about why the people in our area seem helpless at time.  I think it's because they don't have a connection to the land because they don't own any land.
Powerful companies need to be made to obey environmental laws.
Student organizing.
I couldn't say – I am not savvy enough – keep the fight – you know what is needed but it's a tough environment these days.
Be more visible and accessible to the community.  Raise awareness of the organization.
Events.
Tell your story
Keep history alive and its links to current struggles and do this for young people and future  generations.  Don't let the work of people such as Ken Hechler, Judy Bonds, and Larry Gibson be forgotten.  Circulate for discussion those Plundering Appalachia short articles by Ken; Chad Montrie; Mary Hufford, etc.  TV is a corporate wasteland; reading publics and democratic action orgs are inseparable. Many need climate science rendered for the general audience.  The loss of justice and equality for one group is a loss for all of us; what is at stake is democratic equality.  No pigeonholing justice; police violence kills everybody's decent society. 
? you are doing an excellent job…. not an easy one for anyone.
More projects promoting no fossil fuel energy. For example , loan money to a community so the whole village can go a combination of wind, solar, and hydrothermal. Then as they pay back, loan to another community. If other communities in WV could see what neighboring communities save, they would copy them. Also on water, sewer, and electricity they need to end charging smaller users more per unit. They government is forcing the smaller user to subsidize the biggest users, like big companies. It's like a hidden tax.
I have been benefited in so many ways by your work. Thank you for the support you provide to other activists in less well-funded organizations.
Not sure. Your work is effective and your communication is strong and consistent. Thank you so much.
Make OVEC and its missions better known to the general public.
I think it would benefit all environmental groups to connect more with alternative energy and green businesses.  Could you have a shopping page? 
Can't think of anything.  We who care about the environment have a tough enough battle with the current agenda.
Read Greenpeace Captain & see how they maximize publicity.
Interact with/support watershed groups
Y'all are awesome!
Fighting fracking and pipelines and switching to renewables–make the transition more prominent for many reasons–among them is getting folks jobs through renewables.
If I knew how to do better or be more effective, I'd probably do it. I think you are doing very well.
Your profile has dropped over the past five years.
More information to the public.
Can't think of anything.  Just keep doing what you're doing.
Educate people with power, so that they will want positive change.
More outreach.
One can always do better.
Partner with other orgs.
Figure out ways to get labor to get its head out of manchin's ass and quit being fossil fools
All I know about are your lobbying efforts. What physical, tangible results do you get?
Keep on keeping on.
Evening meetings are difficult. How about meetings at different times, in different places in the area?
Maybe connect with other agencies. Sierra Club, the Nature Conservancy, etc. 
Be more visible. I don't believe many people know you exist.
You're doing great! We could all do better with more staff and more funding.
Greater visibility.   Stronger, more persuasive messaging.  Increased action.  Strengthen volunteer support.
More focused organizing and incorporation of economic transition work outside of just energy.
Get our message out to the public.
Don't know
More organized protests both online and in the field (environmental boots on the ground). 
Arrange brain transplants for all the people who will not see the problems, or who are causing the problems.  I'm not sure I have any real solutions to suggest.  I spent 31 years teaching environmental science and biology classes to high school students and I'm not sure how much difference my efforts have made.
Focus on place-based campaigns and create more targeted messaging to suit each place. Also, I think a look at the overall communication strategy is needed. The newsletter is great from what I hear, but I don't read it. I would love to see more faces, of more people through digital media. Video about an issue, see who's affected, learn how, and bam. Help us continue this work donate button.  Do more with volunteers. Ask for specific things from them.  Think about future members and how to attract more young people.  This survey should be more direct and shorter.  
Be more visible. Most people don't even know what it is.
Can you change the election results?
You rock.
I'm not from your region, and just happened to run upon a documentary on Netflix about mountaintop removal which led me to OVEC.  I'm on the east coast, NJ.  And had no idea that mountaintop removal existed.  Maybe if you got your word out, a bit more outside of your community, more people would become aware and would want to join the fight?
Community meetings.
.Target focus and combine efforts with other orgs.
Put more effort into getting money out of politics.
Nothing–you're doing well!
Open a chapter in the DC area.
Bigger presence in Charleston?
Increase membership, visibility.
My perception is you all are working hard.
Have more money, more volunteers, neither of which I can do much about, which makes me sad.
Help people become more engaged and effective in their work for a better world.  Be fearless in advocating for a Political and Economic Revolution.   
You're doing fine.
Use resources to partner with local groups on local issues, since organizing efforts aren't quite evident. Help other water groups change state water laws and regulations that govern the DEP, and help us close federal water legislation loopholes since the state won't enforce any legislation that is more stringent.
OVEC does a good job.
In truth, now that I see the list of half a dozen or more activities, I would suggest trimming off all but the core issues: water, fracking, MTR in whatever order one decides they go in.
Communicate better.
I don't know- not without knowing your internal operation
More, do more, get others to do more.
Nothing, you are great!
Whatever you think you should do better,
Perhaps more focus on connecting dots, on public education.
Huntington is a little far away from most affected communities, but that is the only thing I can say is a problem.
I'm not sure, keep up your good work! Looks like since there has been a huge change in Washington, D.C. the battle may be just beginning.
Get more community organizations involved.
Increase your public awareness of who you are and what you're doing.
I think OVEC, as a statewide/regional organization, does a great job with networking and providing resources to lots of other grassroots groups in the state (resources in terms of media support, lobbying, financial, etc). I would love to see OVEC take more of a leadership role in organizing coalitions to fight specific campaigns.
Be more involved in this he community.
PUBLICITY!  Find out how the Sierra Club and AARP get so many members, and because of that, they have clout.  Saving our planet will be even harder with Trump and the Republicans in power.  Let me know what I can do. 
Focus on solutions as well as problems.
Connecting with the global anti-mining movement.
Focus more on renewable energy.
Not sure, but I've always thought the name is a problem. It makes people think the organization is not for them if they are outside the Ohio River Valley.
Convince legislators that your represent mobilized voters and that you function as a legitimate voice of their concerns.
Go after federal grants.
Following up with prospective members 2. Developing issue campaigns and strategy –in writing (with community input). Focus.
Watch Trump and Justice carefully :>)
Keep doing it.
Advertise in the Marshall campus newspaper!
Just do not stop.
You do great.  Keep providing info to the public interest law firm that files lawsuits to stop the coal companies.
Not sure, you guys are great!
More community education.
Put an office in Buckhannon so I can work for OVEC! 😉
Move to Lewisburg.
I love the high visibility of the org, for instance, often being mentioned on NPR. Just keep up the great work! 
Reach out to every group that is even remotely related to the cause of good, and coordinate efforts on a massive scale.
Coalesce the efforts of the various environmental and progressive groups active in WV/Appalachia
If it ain't broke, don't fix it.
Just keep at it.
Hard to say…. in  question seven, your  category about local food and youth:  seems important yet is OVEC spreading intend too thin? Focusing on environment and how to actually bring changes to average people's lives seems a better way to sway skeptics and win more support. Perhaps OVEC could lure in green businesses to the area?
I love the publication.  It could flow better with fewer breaks in the articles, without the boxes inserted and the "cont on pg 8."
I would like to see more issues of the newsletter to use as an organizing tool and to keep citizens up to date about environmental issues that OVEC is working on.
Nothing that I can tell. You have dedicated and wonderful staff /volunteers that work tirelessly to save our environment.
Find an issue that would unite people of different political persuasions–I'm not sure how but perhaps a particular fracking offense or ….I don't know the answer to this. I'm sorry I can't be of more help but if some issue could unite instead of divide it would be powerful instead of the us against them that isn't working.
Just do not give up!
Thank you for all you do.
Emphasize alternative forms of economic development than extractive industries.
It's hard to say.  My concern with many of the grassroots environmental groups is that they are now more closely aligned with the funders/foundations than with their membership.  I don't know to what extent this is true with OVEC.   
Add any regionally active climate change groups not already in the OVEC coalition, and work together on this issue. 
I don't know how visible OVEC is where its efforts are focused. Would my Fayette County kin know of your work? I'm not sure.
Reaching rural voters in the southern coalfields and transforming the conversation from environment vs jobs into something totally different.
Focus on priority issues, not get spread thin.  Can't do it all. 
Keep on keepin' on!