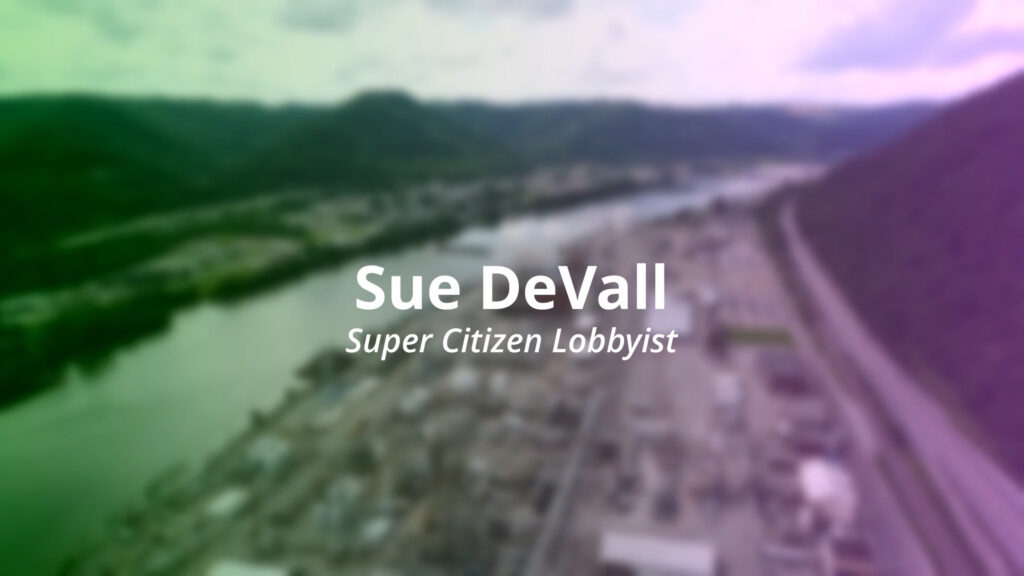 Click play to listen to a statement by Robin Blakeman about Sue DeVall and her work across the region with OVEC and WV Interfaith Power and Light.
Sue is both an OVEC volunteer and a member of the WV Interfaith Power and Light steering committee. As a practitioner of the Buddhist tradition, and a resident of WV's Eastern Panhandle, she has added diversity to all the communities she is a part of. Last year, Sue volunteered to travel twice to the Washington, D.C. area with a group of people led by Interfaith Power and Light advisors to advocate for both the RECLAIM Act and the EPA Methane Rules.
She has also been very active in WVIPL's postcard campaign, advocating for grassroots community members to send messages to their elected congressional leaders about the need to pass the RECLAIM Act, which would provide both ecological clean-up and economic opportunities in many parts of WV and the surrounding central Appalachian region. Last August, Sue worked hard on planning and co-hosting a movie night at Shepherdstown Presbyterian Church, which garnered a lot of involvement in the RECLAIM Act postcard campaign, and introduced information from WVIPL and OVEC to a new audience in that part of the state. That event also resulted in connecting OVEC and WVIPL into the broader "Green Coalition" organizing efforts in the Shepherdstown/Eastern Panhandle area. Sue is self-employed more than full time as a psychotherapist, and she and her husband maintain a large organic garden on their property.
We are amazed that Sue also finds an incredible amount of time to work with OVEC and WVIPL. She attended our Let's Kick ASH strategic planning retreat in March 2020, and was a very active participant – helping shape the Faith Leaders' goal of a letter writing campaign – which targets both petrochemical corporate officials, and local governmental leaders. Sue's definition of "community" is quite expansive, but also very locally rooted in her immediate community. She seems to realize we need "all hands on deck" right now – with everyone doing all that they can – to try to address the multiple challenges of regulatory rollback, just transition, petrochemical build out, and many other issues.