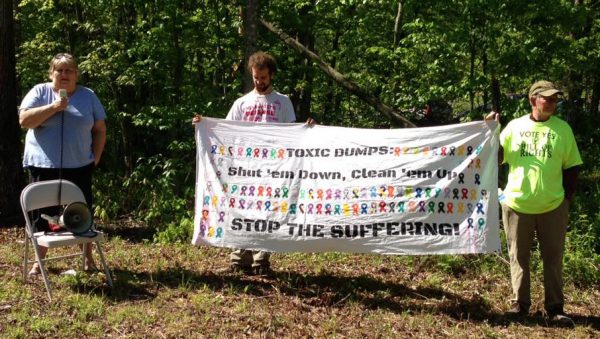 Compiled from a press release by our allies at Headwaters Defense, citizen reports, and news accounts:
On Saturday, May 13, ​Headwaters Defense held a peaceful, non-violent protest to call for the immediate shut down of the Danny Webb Construction injection well site in Lochgelly, in Fayette County, WV. 
Fayette County residents rallied on a local landowner's property adjacent to Danny Webb Construction, where community members spoke out, musicians performed, and faith leaders led prayers.
Nearby residents say toxic waste from fracking-related oil and gas operations that is "disposed" of by injection at the site is making them sick, and at least one study confirms that the waste has contaminated the Wolf Creek watershed.
Around midday, as participants rallied for the injection site to be shut down, some in the crowd called out,"Danny, if you can hear us, beep twice."
Headwaters Defense member Brandon Richardson told a MetroNews reporter, "Then two very loud and close gun shots went off, and it was shortly after he (Danny Webb) had opened his door from his truck."
The protesters thought Webb was sending them a message by firing gun shots into the air. According to the Fayette County Sheriff's Department, Webb was also the man who called 911-–claiming that the shots were coming from the protesters.
Richardson said that Webb's version of the event was false.
"Everyone that was a participant was instructed not to bring firearms, not to bring alcohol or drugs," he said.
Fayette County Sheriff Mike Fridley confirmed that the gunfire did not come from the protesters. He does not agree-–based on the investigation thus far-–that the shots came from Webb. Richardson said Monday that protesters are submitting phone video and written statements to the Sheriff's Department.
After standing their ground until they felt confident that there would be no more gunfire, Headwaters Defense continued to rally for the rest of the day with live musical performances, poetry, art-making, prayer, singing, and speakers. 
Speakers included several community members who have gotten sick from the contamination of Wolf Creek, as well several residents of Minden, another Fayette County community that has been contaminated by PCBs. The speakers said there is a public health care crisis in the county from current and legacy toxic waste dumping.  
"It's changed our lives just knowing that our property has become a toxic waste dump," said Sandra Keeney, a mother living directly beside Wolf Creek, who believes that her well water has been affected by contamination. "My children do not get to enjoy the quiet country life that I wished for them. They do not get to play in the creek or in the sand. My niece and nephew get chemical burns every time we bathe in the water. We can't go on like this. This toxic site needs to be shut down!"
OVEC's Dustin White was also among those who spoke.
This Headwaters Defense event one of two that occurred on or near the day that Danny Webb Construction and the fracking company EQT challenged the Fayette County Commission's frack waste ban in the Fourth Circuit Court of Appeals in Richmond, VA. The day of the appeal Headwaters Defense, peacefully gathered on the courthouse lawn to show the County Commission support.
Danny Webb Construction also appeared before the West Virginia Supreme Court on May 16 to appeal the company's lease being terminated by the landholding group from which it leases additional land and one injection well. We await rulings on both court cases.
Headwaters Defense prides itself on being a non-violent environmental justice group and they have had peaceful family friendly gatherings many times in the past such as marches, picnics and meetings.
Note that when the police arrived on the scene they quickly determined that the assembled residents were engaged in a peaceful, lawful protest on private land, and did not pose any threat to Danny Webb's safety. No arrests were made.
Fayette County Sheriff Mike Fridley said in a press release that, "The right of citizens to assemble and engage in peaceful protest is a fundamental civil liberty… We will not tolerate reckless and dangerous conduct and behavior with firearms from either protesters, or those who are the subject of the protest."
Members of Headwaters Defense have filed a formal complaint with the Fayette County Sheriff's Department about what they believe are violent acts of intimidation.
You can join the Facebook Headwaters Defense group here.