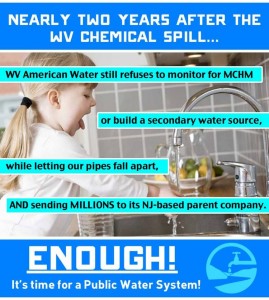 On October 26, the WV Public Service Commission will host a public hearing on West Virginia American Water's pending rate increase case at PSC HQ in Charleston at 6 p.m.
West Virginia American Water wants to raise our rates by 28%. Meanwhile, they have no plans to make our system safer, to fix our water mains any faster, or to increase their workforce. West Virginia American Water's priorities are not our priorities.
So, on October 26, join your neighbors at 5:30 p.m. outside PSC HQ at 201 Brooks St., Charleston, WV. We will be gathering outside of the Public Service Commission at to say "No Way." Be there at 5:30 p.m. to be one of the people that packs the PSC to share your water story! (The hearing will begin at 6:00 p.m.)
If you are frustrated by the water company's high rates, poor service, main breaks and continued vulnerability, then the Public Service Commission needs to hear from you!
According to the Charleston Gazette, "The company has proposed a 28.18 percent water rate increase, which would total more than $35 million annually. That rate request, which would affect 168,000 customers in 19 counties, is controversial following the January 2014 Freedom Industries leak and recurring leaks in Dunbar the past two weeks that left thousands of people without water."
In 2014, WV American Water spent $4.3 million on replacing water mains and sent $5.7 million as shareholder dividends to its parent company, NJ-based American Water Works. In 2016, WV American Water plans to spend only $5.1 million on replacing water mains but increase its shareholder dividends to $11.5 million. WV American Water's priorities are not our priorities.
WV American Water is saying that it cannot make the infrastructure investments we need without a higher profit. We need a public water system, where the money that we currently send out of state in shareholder dividends can stay here and be invested in fixing our infrastructure.
While we're pushing for a public water system, we can't let the company off the hook for its flawed priorities. We need your voice at next week's public hearing!
Learn more on the OurWaterWV blog.