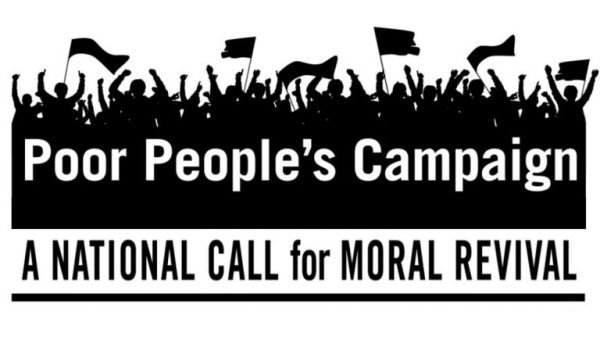 As part of our participation in the VOICES* network, we are circulating this statement of support (below) for the Poor People's Campaign. The Poor People's Campaign (PPC) began with Rev. Martin Luther King, Jr., in the late 1960s. There are current efforts—led by Rev. William J. Barber—to revive this moral movement, in order to cast a spotlight on issues that perpetuate and increase wealth inequality in our country. (*VOICES: Victory Over Infrackstructure! Clean Energy Instead!)
The modern day PPC 40-day action campaign began May 14 around the country, and runs through June. That day, WV PPC group had a rally at the WV State Capitol, as also did the Kentucky PPC group. Follow the state PPC site nearest you for more information on other days of action that will be coming. 
We are encouraging individuals and groups to sign onto this statement by Friday, May 18. Please share the sign-on link!
Statement: We Support the Poor People's Campaign
We are activists and organizations working to stop fracking, new fracked gas infrastructure and all new fossil fuel infrastructure. The world's climate is being damaged as air and water is poisoned, human rights and property rights are violated, and the powerful greenhouse gas methane leaks into the air, affecting families and communities around the United States and beyond. We are working to stop these abuses and to shift rapidly to clean, jobs-creating, wind and solar and other renewables, which must very soon become the dominant energy sources of the 21st century.
We are inspired by and supportive of the Poor People's Campaign: A National Call for Moral Revival, which is uniting tens of thousands of people across the country to challenge the evils of systemic racism, poverty, the war economy, ecological devastation and the nation's distorted morality. We appreciate the connections that the Poor People's Campaign is making among all of these issues. We know that those working on these issues will be stronger when we can show that we are taking action together on all of them.
We urge others in our movement to endorse and join with the Poor People's Campaign. We call particular attention to the plan for actions the week of June 3-9 on ecological devastation and health.
Sign at this link.