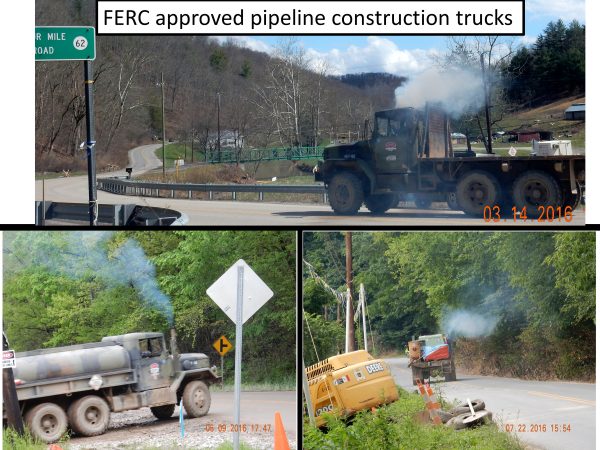 During the past six months, I have taken more than 5,000 photos here in Wetzel County, WV of the construction of the FERC-approved Ohio Valley Connector (OVC) 30-inch pipeline. Its mile post zero is at exactly the same location as mile post zero of the EQT-proposed Mountain Valley Pipeline (MVP). The MVP, if built, would be a 42-inch pipeline.
Above is one composite of the dirty diesel old junker trucks polluting our roads here. Not all of the trucks in use for the construction of this pipeline are this bad. But pretty much on any day over the past six months, I have seen at least one of these dirty junk trucks on our local roads. (Note: These are not off-road vehicles.)
This kind of increased traffic and increased pollution is just one of the plethora of negative impacts deep-shale-related "development" has on local communities. (Click the links here for some background on just some of the dangers and worrisome health impacts of pipelines and their associated compressor stations.)
Learn more about diesel's impact on human health: Union of Concerned Scientists: Diesel Engines and Public Health.