A guest post from Kate McComas, who is active in the Citizens Climate Lobby, Huntington chapter. Kate is also a member of OVEC.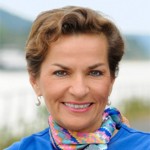 I follow Christiana Figures on Twitter. She is the Executive Secretary of the UN Framework Convention on Climate Change. The Guardian newspaper calls her, "The woman tasked with saving the planet from global warming."
She is in charge of the Climate Talks going on now in Paris. In an effort to provide us with information about the talks, she tweeted links for smart phone apps that provide quite a bit of information about what is going on in Paris. Check it out:
Pleased to present: Our #COP21 negotiator app for Android http://bit.ly/1QFE6hf and iPhone http://bit.ly/Tho7YZ 
COP21en, COP21 – Paris 2015, United Nations and Laurence Tubiana
Download the Paris Climate Talk apps and stay current.