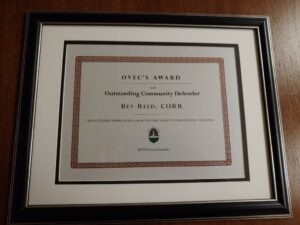 Click play to listen to a statement written by Dustin White about Bev's work in the Ohio River Valley.
We are pleased to present Bev Reed with our 2020 Community Keepers Award for Outstanding Community Defender.
Bev is a partner with Concerned Ohio River Residents, a citizen advocacy organization that works for a cleaner, more sustainable economic future for the Ohio Valley. Since attending a community meeting held by OVEC in Wheeling, WV, Bev has worked tirelessly in her community in opposition to petrochemical expansion in our region.
"Bev's constant efforts no doubt play a huge role in local resistance to PTTG, Mountaineer Storage Facility, and the petrochemical hub at large," says Dustin White, a project coordinator with OVEC. "It has been a pleasure watching Bev grow into a leader and there's no doubt she is the right person to receive our Outstanding Community Defender Award."
For more information about her outstanding work or to get involved, visit www.nocrackerplantov.com and follow Concerned Ohio River Residents on Facebook and Twitter.
Join us for a virtual celebration on September 9 at 7 p.m. to honor Bev and all our 2020 award winners. Click here for more information.