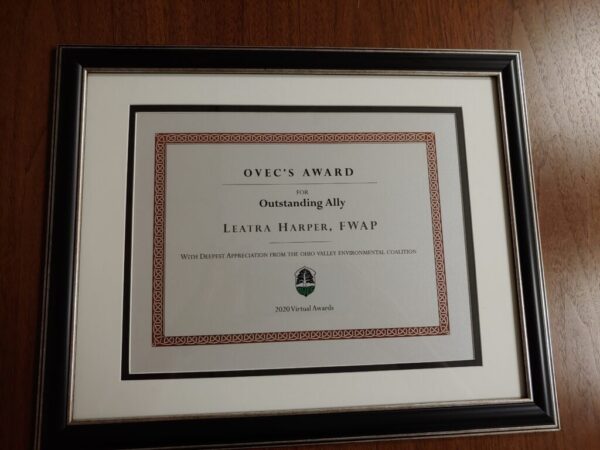 Click play to listen to a statement about Leatra Harper and her work in the Belmont County, Ohio area.
The Ohio Valley Environmental Coalition (OVEC) is proud to present Leatra Harper with our 2020 Community Keepers Award for Outstanding Ally.
"Leatra is an amazing ally," says Robin Blakeman, a project coordinator with OVEC. "She is present in just about every action we are, and willingly amplifies the messages that we and other community members put out."
An Ohio resident, Leatra started a local, nonprofit organization called the FreshWater Accountability Project (FWAP) in response to private water sales to the oil and gas industry in her area. She first got involved with OVEC when she was looking for support to organize in opposition to the proposed petrochemical build-out in the Belmont County area.
"As soon as I asked for help," Leatra says, "it was provided with OVEC adding their name to our effort and supporting us with staff for presentations, signs, hand-outs, petition signature gathering and overall good energy of camaraderie and friendship."
Leatra is well-informed about the effects fracking has on the environment and public health in southeastern Ohio as well as the broader community.
"Fracking is a disaster," Leatra says, "and we are just now realizing how much damage it is doing with all its toxic, radioactive waste falsely labeled as non-hazardous, and the build-out of its support system with huge pipeline projects and compressor stations, fractionation facilities, petrochemical build-out, and now barging of its deadly waste on the Ohio River."
According to Leatra, her work in community activism has had a significant impact on her life. She has not only witnessed the impacts of fossil fuel extraction first-hand, but also the lengths to which industry groups, politicians, and corporate benefactors will go to threaten, disparage and silence people working to defend their right to a livable world.
"I can barely believe the level of compromise and even corruption involved with fracking," Leatra says.
However, despite the challenges, Leatra says she is inspired and motivated by the allies she works with.
"This is a really tough job," Leatra says, "but it's with the best people in the world."
We are thankful for all the tremendous work Leatra has done in support of OVEC and other allied groups, and we are thrilled to take this opportunity to recognize her for her many contributions.
Join us for a virtual celebration on September 9 at 7 p.m. to honor Leatra and all our 2020 award winners. Click here for more information.
Volunteers and members are crucial to our work. Support our organization by becoming a member of OVEC.