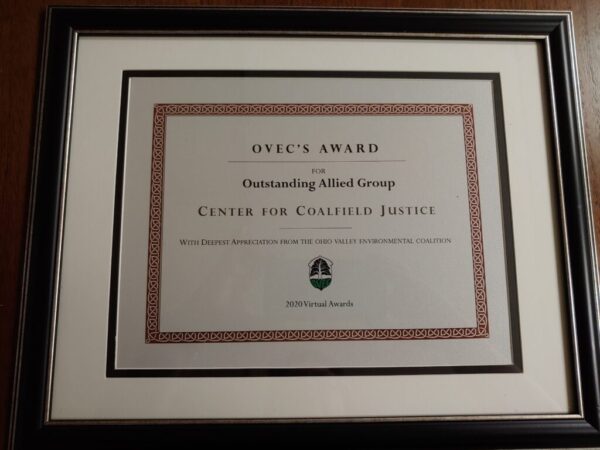 Click play to listen to a statement written by Dustin White about CCJ'S work across the Appalachian region.
We are pleased to present the Center for Coalfield Justice with our 2020 Community Keepers Award for Outstanding Allied Group.
Located in Washington, Pennsylvania, the Center for Coalfield Justice originally formed in 1994 as a grassroots groups called the "Tri-State Citizens Mining Network" to help residents in southwestern Pennsylvania stand against the coal mining practices that harmed their clean air, water, and communities. In 2007, they reorganized into Center for Coalfield Justice and have since broadened their work to include other fossil fuel issues including oil, gas, and petrochemical expansion in our region
"Though we are separated by hundreds of miles, OVEC and CCJ's work and mission have always seemed complimentary," says Dustin White, a project coordinator with the Ohio Valley Environmental Coalition. "Their presence only strengthens the drive for justice in our region."
For more information about their work or to get involved, visit www.coalfieldjustice.org and follow CCJ on Facebook and Twitter.
Join us for a virtual celebration on September 9 at 7 p.m. to honor the Center for Coalfield Justice and all our 2020 award winners. Click here for more information.
Support our work by becoming a member of OVEC.