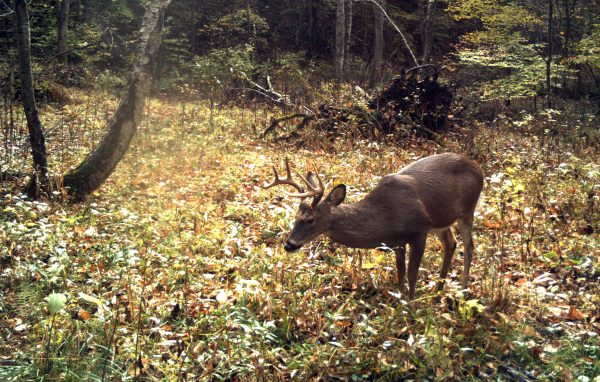 According to the calendar fall is officially here, although you might not believe it given the last few weeks of record breaking high temperatures. The shorter days signal nature to start the descent into winter but before that happens there are many weeks of great days to play in the outdoors.
This is the time of year when many hunters, fishermen and fisherwomen, backpackers and hikers, mountain bikers, and nature enthusiasts will head into the great outdoors. People don't often think of economics when they picture a fly fisherman casting his rod or a hiker winding his way through the forest, but indeed all these activities are very economically beneficial to federal, state and local economies.
The 2011 Census Bureau estimated that outdoor sports activities like hunting and fishing bring in about 90 billion dollars annually. That's quite a chunk of change but when you consider all the spin off industries associated with these activities it is not hard to believe.
In 2014, 1.1 billion dollars was distributed to state wildlife agencies just from sports excise tax revenues. Duck stamps alone generate 25 million dollars a year which is used to restore and preserve valuable habitat. For decades, outdoor sportsmen and sportswomen have led the fight to preserve wetlands and forests for future generations.
It is no surprise that this community, which has been stewarding our natural resources, has begun to witness the effects of climate instability first hand. This spring, in Missoula, Montana, hundreds of flannel-shirted fly fishermen came to give testimony to the threats facing the state's 64 million dollar industry. Diminishing stream flow and warmer water has led to diseases and fungal outbreaks killing trout and whitefish.
Ohio's fishermen and fisherwomen have also seen the effects of climate instability. Warmer water and agricultural runoff led to the algal blooms seen in both Lake Erie and the Ohio River. Yellow Perch in Lake Erie are in trouble according to research conducted at The Ohio State University.
"Warmer water temperatures can lead to the production of less hardy eggs and larvae that have trouble surviving these early stages of life in Lake Erie." Walleye are also being affected by warmer water. The sea lamprey, an invasive species, feeds on walleye blood after it attaches itself to the outside of a fish. It is able to thrive in warmer waters. The walleye however, prefer cooler waters.
Ice fishing on Lake Erie has also been declining due to the warming winters. In 2002, the lake failed to freeze throughout the winter causing an economic loss to many businesses in the region. Put-in-Bay alone lost one million dollars.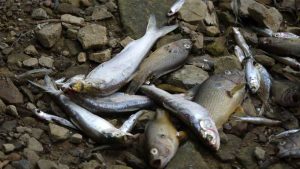 The same scenario is playing out in the high mountain streams of nearby West Virginia. Brook trout, the state fish, depends on the cold water streams to be able to obtain dissolved oxygen. As streams warm, the trout are disappearing. Invasive species are moving into warmer areas where cold water used to be a deterrent.
Small game and game bird hunters are noticing problems as well. One problem that occurs with birds as well as fish is that warmer, shorter winters allow their food supplies (insects and zooplankton) to emerge earlier. By the time the birds and fish reproduce the supplies of food have dwindled.
A report from the National Wildlife Federation stated that the 2.6 million game bird hunters have begun to notice the ranges of many species shifting northward.  For some species this may not be a problem but for others that inhabit northern regions and high altitudes already, there is no place left to go.
Precipitation events have dramatically changed. The northeastern portion of Ohio is receiving more rain while the southwestern section is receiving less. Less snow means less snow pack and less run off in the spring. This affects the quality of our wetlands and the migratory species that depend on these wetlands.
In West Virginia, tourism contributes $2.1 billion a year to the state's GDP. The Environmental Protection Agency predicts that warmer, shorter winters in the state means less days of snow cover. This could impact skiing, snowboarding and snowmobile activities. This would in turn harm the economies of local communities that depend on these tourism dollars.
For outdoor enthusiasts in Appalachia, warmer winter weather means more pests. There has been a steady rise in the number of cases of Lyme disease.  I can testify to this myself. My husband and I picked more ticks off ourselves this February than at any time we can remember.
Maps from the Center for Disease Control show the range for the disease has steadily spread from the northeast and there are cases in almost every state in the country. Fear of the disease has impacted the hiking and mountain biking industries.
Taking into account all the other local and state businesses that are connected to outdoor sports activities, businesses like hotels, retail stores, souvenir shops, boating supply stores, restaurants, hunting equipment shops, and camping equipment to name a few, the problems we are seeing with climate instability could significantly impact our bottom line.
It would be prudent to consider mitigating the effects to our climate given the economic costs that will occur if we do nothing. While some species can adapt to the changes many others will not and their loss will severely impact the lucrative outdoor sporting industry.
Each individual can reduce their carbon footprint if we tried. There are small steps we can all take. Simply admitting that something needs to be done to reel in (no pun intended) our carbon dioxide emissions is half the battle.
Hunters and anglers can lead the battle to slow down the effects of climate change in the same way they lead the nation in the development of laws for wildlife management and conservation of our natural resources. Todd Tanner, a famous hunter and angler, formed a non-profit group called Conservation Hawks. His goal is to persevere our hunting and fishing legacy for future generations to enjoy. 
Take action however you can. If you want to get involved with OVEC's Climate Conscious efforts, send an e-mail to info@ohvec.org.