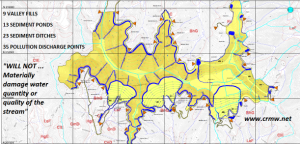 The WV DEP held an informal conference on the Long Ridge mountaintop removal permit on July 7. Of course, Coal River Mountain Watch urged folks to comment against Alpha Natural Resources' proposed new 847-acre site on Coal River Mountain.
OVEC volunteer Daile Boulis and OVEC organizer Dustin White carpooled to the conference to make comments. They traveled with Becky Park and Chad Cordell, both very active with the Kanawha Forest Coalition.
OVEC's Executive Director Janet Keating submitted written comments on behalf of OVEC:
News coverage of the conference included this article from the Beckley Register-Herald and this story on WVVA.
Thanks to everyone who commented on this latest proposed mountaintop removal operation. For anyone who thought the practice of mining coal by mountaintop removal was dead — nope, it is not. Stay vigilant and keep demanding an end to extreme coal mining!