Greetings water drinkers: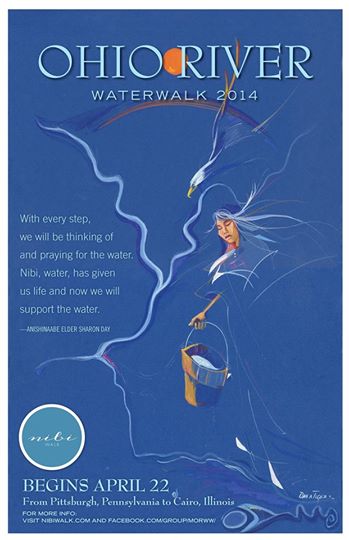 OVEC members and supporters and all Friends of Water are urged to support the Ohio River Walk 2014.
Support could mean something as simple as a like on Facebook, to joining in the walk for a bit, to providing shelter or an evening meal to the walkers, to organizing an education event with the walkers in your town, to making a donation in support of the walk.
Today, Earth Day, April 22, a group of indigenous women and their allies began a walk in Pittsburgh, PA, at the confluence of the Monongahela and Allegheny rivers, the birthplace of the Ohio River, the most polluted river in our nation. The women are carrying a ceremonial copper vessel, filled with water from that point, all along the entire 981-mile length of the Ohio to Cairo, IL, where the Ohio empties into the Mississippi.
Their walk is called the Ohio River Walk 2014 (or the Nibi Walk), and every step is a prayer for the water. Nibi means water in the Anishinaabe. the Anishinaabe elder Sharon Day (right) tell us, "In our teachings it was promised that the water will always flow down to us as long as we remember to sing and make the offerings to the water. We believe these songs and offerings are crucial now, when the health of our freshwater is at great risk, and we invite people from all walks of life to join us in our sacred mission."
Wheeling Water Warriors, WV Rivers Coalition and OVEC will help support the NIBI Walk 2014 in West Virginia. One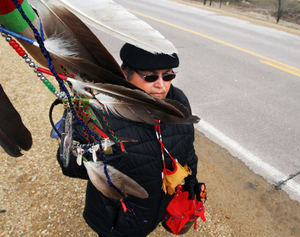 way we can help is by providing lodging and evening meals (potluck community meals with members of your church or other local group are ideal) for the women along the way. Needing lodging and meals will be a maximums of six women, all of whom will have sleeping gear and won't mind floor space. You don't have to live right along the river; they'll have a support vehicle and can drive to your location if not too terribly far (say less than 30 miles or so… that said, they may be really interested in meeting those frack fighters living further from the Ohio…).
If you are interested in participating, please e-mail info@ohvec.org and we'll pass your note along to the logistics manager, or contact the Nibi Walk organizers here. Scroll down to see the dates and locations where we the walkers will need housing and meals. You can follow the walk on Facebook.
The walk is already making news: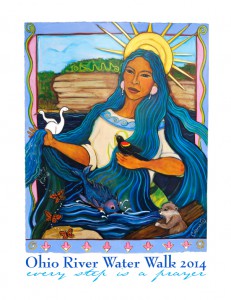 River Walk Aims To Help Ohio River On A Spiritual Level
Standing in Solidarity: This Week in Daily Giving
Lodging and meals needed in the following location on the following dates:
Saturday, April 26: Hannibal / New Martinsville (seeking help from folks in Wetzel and Tyler counties, possibly Doddridge)
Sunday, April 27: Newport, OH / St. Mary's WV (Pleasants County, possibly Doddridge)
April 28, 29, 30: Parkersburg (Wood County)
Thursday, May 1:  Addison, Oh / Point Pleasant, WV (Mason and Jackson counties)
May 2, 3, 4: Huntington (Cabell County and Lawrence County in Ohio)
From May 5-9 the walkers will be between Huntington, WV and Cincinnati, OH and are looking for contacts along /near the river there.
They are looking to stay in the Louisville, KY area around May 10, 11, and 12.