The women-led @OVEC_WV has spent thirty years organizing around clean water, an end to fracking and social justice: https://t.co/DFWfg28kc1 pic.twitter.com/nCXq6hZ953

— Ms. Magazine (@MsMagazine) April 2, 2017

Ms. Magazine's Spring 2017 issue features a story on OVEC! A March 31 Ms. Blog entry, A Sustainable Solution: Ohio Valley Environmental Coalition,excerpts some of the article:
In West Virginia, the Ohio Valley Environmental Coalition (OVEC) is taking a local approach to boost renewables. The mostly women-led environmental group this year celebrates its 30th anniversary of working in the Appalachian region, where coal is a major contributor to the economy. Its staff may be small, numbering around nine, but they work on environmental and social justice campaigns that range from protecting water to organizing around fracking and oil and gas pipeline infrastructure to working for state-level campaign finance reform. They are also promoting cleaner energy in the area, including pushing for and defending energy efficiency legislation, lobbying and working on local renewable energy projects.
The blog also notes an upcoming event we hope you will join:
This post is part of a series of Ms. reports on the blog and in print that look at the organizing models of some of the women-led groups helping to build a sustainable grassroots movement to boost renewables and combat climate changes. The series will end with an interactive online webinar and briefing with leaders from Mothers Out Front and Ohio Valley Environmental Coalition to empower readers who want to advocate for renewables in their communities. RSVP today!
The webinar will took place on June 4. We should have a summary of the webinar to post soon.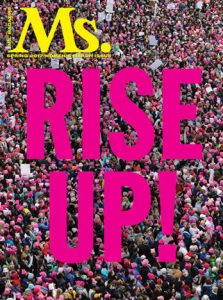 Look for Ms. magazine on newsstands.