Editor's note: There's an informal plan for people plan to be on the steps of the WV State Capitol (river side) in Charleston, from 12 – 2 p.m. (please do show up earlier if you can) for the international climate strike in solidarity with Greta Thunberg. If you "do" Facebook, learn more here.
Friday, March 15 is be a global day of action to call attention to the failure of global leaders when it comes to addressing the issue of climate change. It is being organized by school students all over the world and led by a 16-year old Swedish student, Greta Thunberg. For many students this day of action will involve walking out of their school classes in a "school strike."
It is estimated that more than fifty nations will take part in this day of action. However, this will not be the first time students have taken part in a school strike. For the past two months, school kids, primarily teenagers, have been striking against climate change in Australia, Sweden, Finland, Scotland, Germany, Poland, Thailand, Colombia, Ireland, Uganda, and Denmark.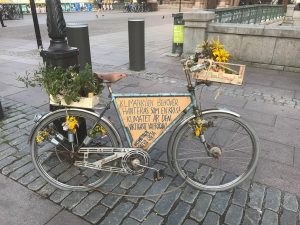 The first strike was in Sweden and initiated by Greta Thunberg. Every Friday since the start of school in August, she has sat in front of the Parliament in Stockholm, and asked that her government and leaders step up actions to curtail climate change. Since then, tens of thousands of students have joined her, carrying banners saying "Save Our Future," "Climate Change is Real," and "Our House is on Fire."
More than 10,000 people took part in protests across the UK. When one of the strike leaders, Sophie Sleeman, was asked to call off the strikes, she said "the education system, the media and the government are not doing enough to tackle climate change or portray its severity to us."
In Germany, where 15,000 students have boycotted schools for the past three Fridays, Greta said, "For way too long, the politicians and the people in power have gotten away with doing nothing to fight the climate crisis. But we will make sure that they will not get away with it any longer."
Each generation has experienced an event that is often life changing, evoking in them a sense of urgency to act. My parents were children during World War II. My mother would tell us stories of practicing for potential air attacks from Japan or Germany. Her family would turn off the lights and huddle around a small radio while waiting for the all clear signal. Her three older brothers felt it was their responsibility to serve in the war.  They had friends that were killed in the war. Certainly that generation was forever imprinted with the possibility of dying in a war.
I was a teenager at the end of the Vietnam War. I did have friends who served and some who also did not return. In those days, actual film footage from the war zones was shown on nightly news shows, making the fear more palpable. Instead of kids worrying about prom or senior pictures, they were worrying about their draft card number.
For the first time in history, children all over the planet are now worrying in unison about a future they may never see. As Karen O'Brien, a professor of sociology at the University of Oslo stated, "this may be the first generation to feel the full impacts of global warming."
When we, grandparents, look at our grandchildren, we see hope for the future. We wonder what will happen in their lives after we have passed on. But Greta does not want our hopeful wishes, she said "I don't want you to be hopeful, I want you to panic. I want you to feel the fear I feel each day. And then I want you to act."
Many scientists believe it will take a global effort on par with what occurred in the United States during WWII to address the climate crisis. When our soldiers went off to fight the war, the citizens at home became a second line of defense. My mother talked about tin can drives, paper drives, women taking over their husbands' jobs in the steel mills. Food, gas, and clothing were rationed but there was a national feeling that the sacrifices made were for the good of our country.
We are in a war of sorts right now, but the stakes are much higher for this war than any other war previously fought. While you may not see the direct evidence of climate change in your backyard in Ohio, it is real and it is happening at a rate unprecedented. Both the IUPCC 2018 Report and the recent National Climate Assessment, tell us that greenhouse gases have reached another new record high and this increase is causing sea level rise and ocean acidification. They say we have twelve short years to act or the damage will be too substantial to reverse.
In a survey of 1,000 experts from government, business, academia, and non-governmental organizations, conducted at the Davos World Economic Forum, the top risk for the year 2019 was extreme weather. The survey said, "the world is sleepwalking into catastrophe."
Greta spoke to both 2018 UN Climate Change Conference and to the Davos, Switzerland World Economic Forum. Addressing a group of many billionaires at the forum she said "we are facing an existential crisis, the biggest crisis humanity has ever faced, and some people, some companies, some decision makers in particular know exactly what priceless values they have been sacrificing to make unimaginable amounts of money."
It is hard to imagine that a 16 year-old girl could bring so much global attention to climate change. Ironically, we would all gladly give up a kidney to save our child's life, so why can't we see the urgency of addressing climate change? It will take lifestyle changes and some sacrificing but the future we are saving now has a face, the faces of our children and grandchildren.