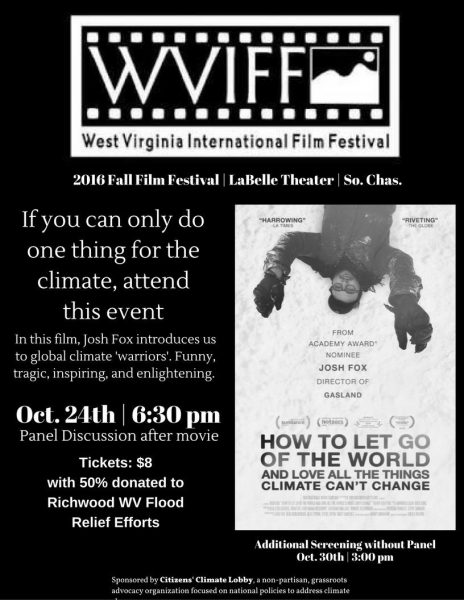 The Citizens' Climate Lobby of Charleston, WV proudly presents the latest Josh Fox film, How to Let Go of the World and Learn to Love All the Things Climate Can't Change on Monday, October 24 at 6:30 p.m., at LaBelle Theater in South Charleston.
Part of the West Virginia International Film Festival, the film will be followed by discussion from a panel to include:
• the Mayor of Richwood, WV, Bob Henry Baber
• Doug Walters, a Charleston resident who has lived in the Marshall Islands where he experienced the effects of climate change
• the Rev. Zach Drennen of Strong Mountain Communities, an enterprise of Coalfield Development Corporation
• Molly Linehan, Director of Campus Ministries at Charleston Catholic High School, conversant with the message of Pope Francis' letter to all people: Laudato si': On Care For Our Common Home
• engineer and entrepreneur Allan Tweddle, who has decades of experience in air quality, solar energy and energy policy
The film takes us to the Amazon rainforest, the neighborhoods of New York City after Superstorm Sandy, Beijing with its deadly pollution, and the Pacific Islands where the sea level is rising to bear witness to the people who are struggling to preserve their communities.
It concludes with an expression of faith in our ingenuity to surmount the challenges we face as the earth heats up. Tickets are $8. Half of the proceeds will go to flood relief efforts in Richwood, WV.
A second screening without the panel will take place Sunday, October 30 at 3 p.m.