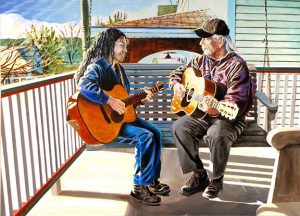 Upon receiving a note from OVEC about an upcoming event—Uprooting Racism Before it Grows—Michael and Carrie Kline, of Talking Across the Lines, asked that we share a link to Game Changer with fellow OVEC members and supporters. 
Produced for the Mountain of Hope Organization with support from the West Virginia Humanities Council, Game Changer: Football as a Catalyst for Peaceful School Integration is the first installment  in their Hope audio series.
Hope is an interracial documentary project conducted over the past 18 months in Mount Hope, WV—the heart of the New River coalfields. The couple, along with O.H. Jackson Napier, have collected more than 40 life-story interviews from sons and daughters of coal miners. The stories focus on the whole fabric of what life and work in this small, diverse town was like a half-century ago. The defining occupation was deep mining with all of its attendant dangers, health hazards, and intricate working relationships. The resulting impacts on family and society come alive in this conversational audio documentary inter-weaving spoken memories from 60 hours of field recordings. 
From livelihood to loss of life, these heart-rending voices portray the struggles and camaraderie of this iconic work, facing down stereotypes of race relations in the region. A mixture of southern blacks, European immigrants, and white laborers from hard-scrabble local farms were all employed underground, working together and watching each others' backs. The resulting bonds that grew among working coal miners shaped the social milieu of the town above and minimized differences and conflicts across the usual boundaries of race, class and ethnicity found in other regions. Sentiments that,"When everybody came out of the mines, they were all black anyway," resonate through the interviews. 
More installments of Hope are coming soon.  Produced for the Mountain of Hope Organization with support from the West Virginia Humanities Council