On Tuesday, WV Agriculture Commissioner Walt Helmick made a pitch to the WV House Committee on Agriculture. He'd like to see hog farms on inactive mountaintop removal sites.
Helmick's comments give some telling insight into both mountaintop removal operations and hog "farms."
According to a WV Public Radio news story,
Helmick says the old mountaintop removal sites can't grow crops, but that hog farming could bring in a great deal of profit.
To further his case, Helmick brought in examples of the pork industry in North Carolina.
"When you're looking at the pork industry, which down in North Carolina, is a $2.5 billion industry," said Helmick, "and that's huge, about 30,000 direct jobs. $2.5 billion in one product and that's the pork industry."
Helmick says West Virginia can do better than North Carolina.
"We're situated better than North Carolina," explained Helmick, "We're situated to the growing market of Indiana, Illinois, Kentucky, than they are. And so they understand that we do have the rails, the three phase electricity, that we also have water, and we have the remoteness that a lot of industries want. Those areas are remote because you had mining activity. Couldn't have anybody live within 5 or 6 miles of the place, and so those are very positive things for us."
That there's water (at least clean, healthy water) on top of or near mountaintop removal sites is highly arguable (for starters check out these studies: Bernhardt and Palmer, Hitt, Duke, and KU), but the telling parts of what Helmick says include his out-loud utterance that MTR sites are not suitable for growing crops. (However, hemp may be a possibility…?)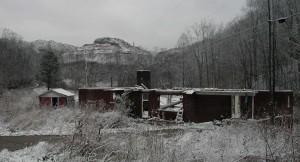 Helmick says another thing that government officials have avoided saying out loud: MTR mining activity makes places remote. From our experience, that's because people have been driven away by the approaching mining. Helmick likely overstated himself and knows that there are some people and communities still near some MTR sites, but the folks living near MTR sites are far more likely to be unhealthy and facing early death than people who don't live near MTR sites.
The other telling bit here is that people don't want to live near hog farms. The "pew" factor is horrendous, as is the potential for water pollution. If we are in fact going to do better than North Carolina, maybe we could start by doing what that state did in 2007 — let's ban hog slurry lagoons now, before we have them. (Not that such a law is doing NC any good… Maybe that 2007 law was repealed or not enforced like so many laws here, or maybe there was some linguistic detoxification that makes hog farm waste "cells" instead of lagoons.)
Gee what a grand idea, not: Let's give the area already suffering from MTR-water pollution and coal slurry "lakes" some hog slurry lagoons. Not to mention the massive cruelty associated with factory farms…
Can't we come up with something a little more positive for those old MTR sites, such as solar farms (we sure won't have to worry about trees getting shading solar collectors)? There's also the proposal about bee hives on old MTR sites (be sure to test the honey for pollutants).
Whatever happens on old MTR sites (that continue to spew pollution decades after they are "reclaimed"), it's way past time to end MTR. Not one more square inch of new MTR mines. Please make plans now to come out on March 16 and tell DEP just that. And be sure to encourage your state's delegation to support the ACHE Act.