Update: Join the event on Facebook and invite others here.
December 1 is #GivingTuesday. Whether you partake in the frenzy that is Black Friday or observe Buy Nothing Day, and whether or not you are into CyberMonday, you can be part of a beautiful worldwide celebration on #GivingTuesday. Refocus on the deeper traditions of the holiday season by joining in #GivingTuesday, a global 14-hour campaign, in which people around the world come together for one common purpose: to celebrate generosity and to give. Give your time by volunteering, give a donation to one or more of your favorite non-profits, give your energy by giving a helping hand. And if you are in the Charleston area, you can join us on #GivingTuesday.
From 6 – 8 p.m. on Tuesday, December 1, we hope you'll come out for OVEC's Night at the Kanawha Forest Exposition, 247 Capitol St., Charleston, WV. Stop in for refreshments and listen to the background music provided by local musicians Paul Epstein on fiddle and guitar, John Longwell on mandolin and fiddle and Sara Cottingham on banjo. 
OVEC volunteers and staff will explain our work to those interested, and we'll be encouraging folks to renew their memberships in OVEC, or join for the first time.
Standard membership is $20/year; "sweat equity" memberships are available, too. Anyone joining at the Sustainer level of $60/year will be eligible for a free collectible hand-made glass ornament by local glass artist Kelsey Murphy. (pictured at left; $40 value.) Those purchasing a gift membership for another person will receive a gift book on an issue related to OVEC's work.
Unique holiday gifts such as the hand-blown glass ornaments, hand-made one-of-a-kind necklaces, and Solar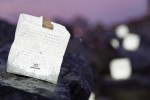 Puffs (pictured at left; your purchase sends one of these lanterns to a person living in an area without electricity) will be available for purchase.
If you can't join us in person on #GivingTuesday, we hope you'll give online. If you'd like to purchase a gift membership, e-mail info@ohvec.org or call us at 304-522-0246.
Your tax-deductible donation to OVEC is not just an endorsement of our work — it makes our work possible! If you don't want to use a credit card to donate,  you can use PayPal. Beginning on #GivingTuesday, PayPal will add 1% to all donations made to OVEC via the PayPal Giving Fund. We receive 101% of donations made through this portal, just be sure to search for "OVEC" and click the link.
You can also snail-mail us a check:
OVEC
PO Box 6753
Huntington, WV 25773-6753
If you are on Twitter and/or Facebook, please help spread the word about supporting OVEC on #GivingTuesday.
We are deeply appreciative of your support!