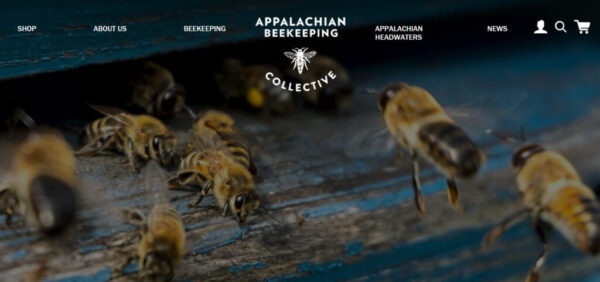 Do you want to give meaningful holiday gifts that help folks in our region, but don't know where to find those? Don't worry, bee happy. Our friends at Appalachian Headwaters have you covered. 
Appalachian Headwaters works to develop sustainable economic opportunities while restoring damaged ecosystems in central Appalachia. When you support them, you support this work. 
For the last several years, they've been developing the Appalachian Beekeeping Collective (ABC), a nonprofit organization that trains, supports, and provides bees and equipment at no cost to partner beekeepers in economically distressed Appalachian communities. More than 100 beekeepers in West Virginia and Virginia are already partnered with ABC.
They help their partners produce natural honey in the "greenest" possible way. ABC bees gather pollen and nectar from nearby forests and fields, not agricultural crops sprayed with pesticides. ABC partners practice natural beekeeping, using no synthetic chemicals or antibiotics.
Not only do ABC partners help improve their corner of Earth, they can also earn a little cash. ABC has recently launched its online shop: www.abchoney.org.
Buzz over to the ABC store to purchase some of the locally produced honey as gifts to your friends and family. Each purchase helps support partner beekeepers and ABC.
They have honey gift sets, as well as artwork by regional artisans. You will find hand-carved spoons, unique pottery, Blenko glass, organic tea, and even salt collected from an ancient Appalachian sea.
Support beekeeping, deliciously. It is all about thinking global and acting local. Beekeeping underscores why we need to protect local ecosystems and why we need to decrease world-wide threats to pollinators such as climate change and deforestation. 
Appalachian Headwaters has launched other programs focused on ecological restoration and environmental education. Their native plant horticulture program will propagate and grow many of the plants for their reforestation projects from seeds and other materials collected from local forests.
They operate Camp Waldo, an environmentally focused summer camp for children in our economically distressed region. They are also expanding their environmental education program in public schools and creating a network to support environmental educators in central Appalachia. 
Formed in 2015, Appalachian Headwaters is a nonprofit focused on establishing native forests and restoring streams on mountaintop removal mine sites and other stripe mines. The program is doing well: restoration is in progress on more than 5,000 acres of former mountaintop removal coal mines. Read about OVEC's connection to Appalachian Headwaters here.