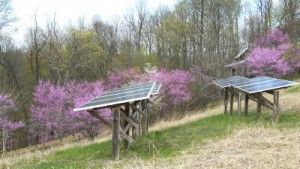 April's greening of the land is here and so are Earth Day events, to help us learn about ways to green up our lives and our communities. If you are in Huntington, Charleston or Parkersburg we hope you will join OVEC at these events:
April 20: 10 a.m. – 2 p.m. Earth Day at MU Student Center Plaza. OVEC will have a table there. Join us for some great fun, hosted by MU's Sustainability Department. A wild variety of workshops, presenters, and participants will fill this event with green and sustainable learning opportunities. Visitors both young and old will be entertained and engaged. Come celebrate the splendor, beauty and diversity of our planet.
April 21: 10 a.m.–2 p.m. WVU Parkersburg Earth Day Expo, hosted by the WVUP's Environmental Action Group. The event will be a celebration of the state's natural beauty and a recognition of some of the environmental threats facing the world. Stop by the OVEC table.
Make Earth Day every day—vote in some green legislators. If you want to vote in the May primary and aren't already registered to vote, April 19 is your last day to register for that election. You can register to vote online, by mail or visit the county clerk's office in the county in which you reside. To register on the Secretary of State's website, visitsos.wv.gov, click "Elections," then scroll down and click "Voter Registration" and "Register to Vote."
April 25:  WVSU Celebrates Earth Day: Climate and Sustainability, beginning at 9:30 a.m., Wilson Student Union, WVSU, Institute, WV.  With tables from citizen groups – including OVEC –  and the elementary science and social studies methods classes, with information to help people understand climate and energy issues (10 a.m. – 2 p.m.)
9:30 a.m. Room 135, Wilson Student Union – Keynote address with David Marsalek, Meteorologist for the National Weather Service, Charleston Office, speaking on "Climate: Then and Now."  Climate change is arguably the most important issue of our time.  Climate change has serious repercussions: heat waves, sea rise, drought, famine, water shortages, and resultant migration of humans and other species.  David Marsalek of the National Weather Service in Charleston will help participants understand the building blocks of and the complexities behind climate change, such as increases in greenhouse gases and global temperatures.
11:00 a.m.. Room 135, Wilson Student Union – Keynote address with James Van Nostrand, Director, Center for Energy and Sustainable Development and Associate Professor of Law at WVU speaking on, "New Clean Air Standards and Sustainable Development in West Virginia." The panelists who will respond to his presentation are Ginta Palubinskas (Associate Professor of Political Science), Steven Richards (Professor of Health and Human Performance), and Michael Workman (Assistant Professor of History).
2 p.m. Room 135, Wilson Student Union – This Changes Everything: Movie and Discussion
7 p.m.  Room 135, Wilson Student Union – Merchants of Doubt: Movie and Discussion
This Changes Everything is a film that tells the story of people and communities who are trying to meet the challenge of climate change. Through the power of storytelling, the film will leave you reflecting on the ties between us, the kind of lives we really want, and why the climate crisis is at the center of it all.
Merchants of Doubt traces the use of public relations tactics that were originally developed by the tobacco industry to protect their business from research indicating health risks from smoking. The central concern of the film is the ongoing use of these tactics to forestall governmental action to regulate greenhouse gas emissions in response to the risk of global climate change.
If you live in the Huntington area, come ask some questions of candidates running for office. Join us April 18 and on April 28: 6 – 8 p.m. Meet the Candidates Cabell County Forum at the AD Lewis Center,1450 A D Lewis Ave, Huntington, WV, 25701. Sponsored by the Cabell-Huntington Chapter of the NAACP and OVEC. Refreshments served. The first forum features candidates running for local office and the second features candidates running for state-wide office.
April is also Huntington's Green Challenge. Check the calendar here. 
Get out there, get green!