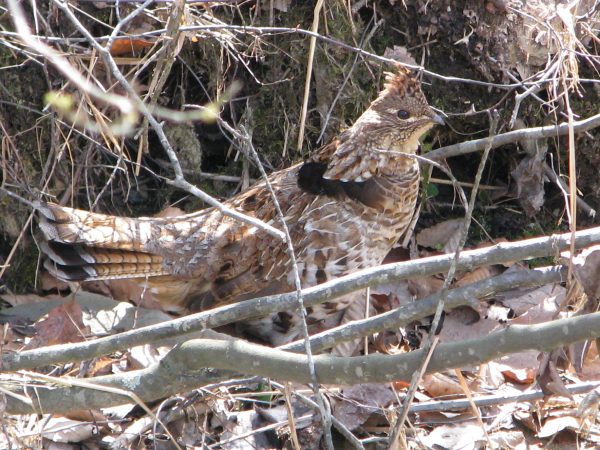 I recently had the honor of being interviewed by Derrick Jensen, an activist and the author of more than 20 books, about environmental destruction, violence against women, racism, imperialism, and so on. Derrick says his work is about "trying to stop this culture from destroying the biosphere."
The interview will air tonight, Sunday, April 24, at 6 p.m. (eastern), on Resistance Radio, Derrick's weekly radio show on PRN (Progressive Radio Network). We spoke about mountaintop removal coal mining.
One thing Derrick asked me was to name a species that is impacted by mountaintop removal. I chose the ruffed grouse, because of an encounter I had with one of these glorious birds, the one in the photo above. I spotted this bird while returning from a visit to the cemetery on Berry Branch in Lincoln County, West Virginia. I knew this would soon be my last visit. The Hobet mountaintop removal operation was closing in on the hills and hollers here.
Much of the stream, Berry Branch, where I spotted this bird is now buried under the rubble of former mountaintops. So, the homes of this ruffed grouse and all its fellow forest critters are now gone. As go all our non-two-legged relations, so go we. The human homes along Berry Branch are all gone now, too. The poisoned remains of Berry Branch flow into the Mud River. We all live downstream.
More about Hobet:
Hobet 21 Complex, Boone and Lincoln Counties, WV
Berry Branch, Lincoln Co.
Judge Says Patriot Coal, DEP Failing to Curb Selenium Violations 
Get Involved! Let the Dead Rest in Peace, Safe From Mountain Massacre! 
And much more on our website…