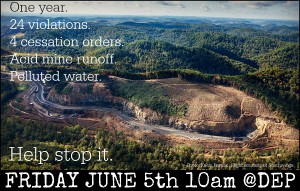 June 5: 10 -11 a.m  Rally! at the WV DEP (601 57th St. SE next to the Kanawha Mall). Rally to urge the DEP to hold Keystone Coal accountable by issuing the Show Cause Order and revoking the KD#2 permit!
The DEP inspector on the KD#2 mine has recommended the permit for a "Show Cause" determination based on a pattern of serious violations that we helped uncover over the past 12 months, including uncontrolled acid mine discharge into Kanawha State Forest streams. This gives the DEP the ability to permanently revoke the permit. But, the DEP often downgrades these Show Cause Orders to "consent agreements" which allow the company to keep mining.
This is an important milestone and we need your help to send a clear message to DEP that we expect them to use the enforcement tools available to them to protect our land and water from outlaw coal companies.
As Jim Waggy put it, "Given the controversial nature of this KD#2 permit, these companies had every incentive to demonstrate their best capabilities and behavior. Instead, their performance could hardly have been worse. We have no reason to believe they would do better in the future. This is an opportunity for DEP to demonstrate that its oversight and enforcement amount to more than just words on paper."
We hope to see you there!
You can find the event on facebook and invite people using this event link.
on Twitter? Re-tweet our post.
MORE INFORMATION:
Link to Press Release: http://tinyurl.com/20150528PR
Link to KFC's Show Cause Order request letter
Link to KD#2 violations
Aerial photo of KD#2 mine with Kanawha State Forest in the background
Link to Show Cause regulations (beginning on page 222) – http://tinyurl.com/mineregs
Kanawha Forest Coalition
PO BOX 722 Charleston, WV 25323
facebook
twitter
web:
email: kanawhaforestcoalition@gmail.com