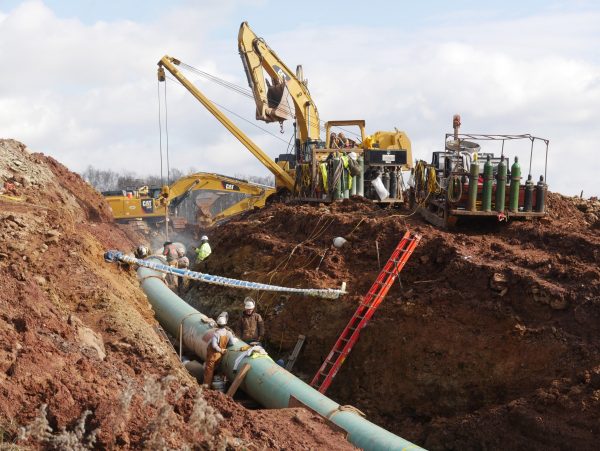 Sign on now, and please help spread the word: bit.ly/FERCReviewForPublicInterest
On April 25, 2018 the Federal Energy Regulatory Commission (FERC) announced the comment period for FERC's review of its process and policies for how it reviews and approves natural gas pipeline infrastructure.  
Despite the devastating impacts of pipeline infrastructure and despite multiple requests made by the VOICES coalition (Victory Over InFRACKstructure, Clean Energy inStead, of which OVEC is a part) urging that the process begin with hearings in impacted communities and a minimum 90-day comment period, FERC has provided a comment period of only 55 days and no hearings. Despite this minimal opportunity to comment, it is critical that FERC hear from the thousands who are being harmed by FERC-approved projects.
Please help us ensure communities across America are heard and voice their concerns on the record.   
Sign on to this updated petition, to be submitted by the June 25 deadline to docket PL18-1, to tell FERC that its pipeline review process is failing communities and the environment and needs fundamental reform. 
To see the full text of the letter:  bit.ly/FERCPipelineReviewPetition
This is a critical opportunity to make clear to FERC that as a federal agency it has a duty to respect the law and respect the people of the United States of America.  The petition makes the following demands of FERC:
Implement a Pipeline Review Process that Prioritizes the Public Interest Over the Goals of the Pipeline Industry. 
 Begin the Review and Reform FERC's Pipeline Review Process with a Series of No Less than Six Public Hearings Held in Affected Communities, and 90 Days for Written Comment.
 Mandate a Legitimate Demonstration of "Need" for a Proposed Pipeline/Infrastructure Project that is Verified by Unbiased Experts.
 Prohibit FERC from Issuing Certificates of Public Convenience or Necessity, Notices to Proceed with Any Aspect of Construction, , and/or Approval for Exercise of Eminent Domain, Until Such Time as an Infrastructure Project Has Secured All State, Federal and/or Regional Permits, Dockets and/or Approvals. 
End the Use of Tolling Orders.
Prohibit Conflicts of Interest.
End the Practice of Using Segmentation.
Commit to a Full and Fair Implementation of the National Environmental Policy Act.
End the Practice of Allowing Pipeline Companies to Secure a 14% Rate of Return on Equity on All New Pipeline Projects.