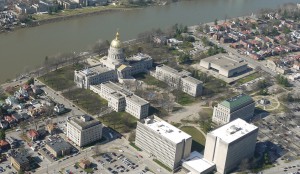 Update on the afternoon of Jan. 14: W.Va. state school board moves back toward original climate change standards 
West Virginians, including members of the Citizens Climate Lobby of West Virginia, are mobilizing to attend tomorrow's (Wednesday, January 14) WV Board of Education meeting at 10 a.m. on the State Capitol grounds (1900 Kanawha Boulevard, E., Charleston, WV), Capitol Building 7, Capitol Room.
The Sierra Club -WV Chapter notes:
Late last month, the WV Board of Education adopted modifications to the "Next Generation Science Standards" (NGSS).  Pretty routine stuff, right?
Well in this case, they modified the standards for teaching climate science to include misleading and inaccurate content challenging the scientific consensus on climate change.  Some Board members openly admit they did this because the coal industry provides money to the school system.
Learn more by reviewing recent news articles:
http://www.wvgazette.com/article/20141228/GZ01/141229489
http://www.wvgazette.com/article/20150104/GZ01/150109861/1419
Students can and should debate policy choices, such as what to do about climate change.  But science classes should not be used to create uncertainty where none exists.  The coal industry is entitled to their opinion, but not to their own facts, especially not in science classes in our schools!
The Sierra Club is working with other groups to ask the Board of education to reconsider these modifications, and return the NGSS to the original wording as peer-reviewed by scientists.
First, please sign the petition from Climate Parents by clicking on the link below:
http://act.engagementlab.org/sign/WV_climatescience/?t=3&akid=938.231078.vnkV7C
Or copy and paste the web address into your browser.
Second, you can also send e-mail to the Board at: vharris@k12.wv.us.
The emails should state: "Please distribute to board members"
We suggest the message to send Board members is:
     "West Virginia kids deserve to learn the scientific facts about climate change as part of a 21st-century science education. Please correct all inaccurate and misleading information about climate change in new science standards for K-12 students in West Virginia. Replace altered climate content with the original peer-reviewed climate science standards written by scientists and science educators." 
The board's actions are garnering national attention:
West Virginia Alters Curriculum To Cast Doubt On Climate Science
West Virginia's sneaky climate denial: School board alters state science standards
Climate-Change Education Advocates Denounce 'The False Science From West Virginia'
West Virginia Revisits Science Standards
Click here to sign a "Tell the WV Board of Ed to fix bad climate science standards!" petition started by a local parent