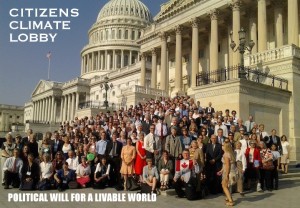 Jim Probst, who is state coordinator of the Citizens' Climate Lobby (CCL) in WV, and five other West Virginians are asking that you please make three phone calls when you have a few minutes.
This CCL WV team recently visited Washington, D.C. to educate our Congresspeople and Senators about climate change. They met up with members from CCL chapters across the country. The CCL group visited 400+ offices on this latest visit to D.C. 
One of the speakers at CCL's D.C. event presented data that made it clear: calls matter second only to actual visits. So, Jim and the WV team are urging everyone to call Congress over coming days and weeks. Becky Park, CCL group leader in Charleston, says, "You can imagine what our visits, backed up by calls, can do!"
Below, we've updated an e-mail CCL sent around before the D.C. visit, as it's something you can use to make your calls to Congress to let politicians know you are concerned about climate change. 
Dear Climate Friend:
No matter who is president, the climate is still warming. Please call your senators and house member Monday, over the coming days and weeks. 
After hours? Call and leave a voice mail, using the specific phone numbers given below.
Use either the suggested message or your own message. Simply express your concerns and urge the member of Congress to act to stabilize the climate. You will find it easy to remain respectful, as we always are in CCL, since the young staff are very polite and professional.
Open with "Can you deliver a message to ____ for me?"
Suggested message: I urge the (Senator or Congressman) to support the Citizens' Climate Lobby proposal that will grow the economy and create jobs in West Virginia. Please support a carbon fee and dividend.
Or your personal message on climate change: Explain the reason for your concern about a warming planet. Feel free to take your time and ask the staff to write this down. They work for you.
Feel free to ask for information: If you wish, ask what the Senator or Congressman's ideas are for reversing global warming. You may ask for a response letter if you are asking them for information.
We do not find these staffers are denying the science anymore, however providing your story of how you have seen the effects is important for them to get the real "West Virginia" picture.
Senators:
Senator Joe Manchin – 202-224-3954
Senator Shelley Moore Capito – 202-224-6472
Congress:
District 1-North
Congressman David McKinley – 202-225-4172
District 2-Charleston through Eastern Panhandle
Congressman Alex Mooney – 202-225-2711
District 3-South
Congressman Evan Jenkins – 202-225-3452
Thank you! Please ask others to make the call too!
In June, CCL folks made 502 visits with members of Congress. CCL has data to show that Congress is becoming more and more aware that they must act. Help keep up the pressure by making those calls today!